Description
Tickets are no longer being sold online for this event however walk-up tickets can be purchased at Pour Larry's from 6-9pm tonight (Oct. 12th) – credit cards only accepted ($20).

Join your fellow fanged creatures of the night for an event like no other that's hit historic Savannah! Encompassing several pubs in the historic downtown area of Georgia's oldest city, make sure your fangs are freshly polished and your thirst is deep as Markster Conbrings another creepy, geeky and fun event to the masses with the BITTEN BAR CRAWL.

Thrown on your capes, fur, chains.....make it a full weekend by also attending the next night's SOLD OUT Vampire Ball (Savannah, GA) at Ghost Coast Distillery (21+) on Saturday, Oct. 13th (9pm-2am) – Vampire Ball is SOLD OUT!

• CHARITY: We will also be using this platform as a charity drive driven by a charity raffle with some awesome prizes so STAY TUNED for more info.

• COSTUMES! Although fangs/costumes are highly encouraged, they are not required.
---> GEN. ADMISSION TICKETS ($15 / $20 / $25):
• Admission to the 2018 Savannah BITTEN BAR CRAWL which also includes no cover at participating pubs (till 10/11pm)
• Commemorative 1.25" Savannah BITTEN BAR CRAWL Pin.
• Exclusive horror-themed drink/shot specials at participating pubs(NOTE: event badge required to get specials)
• Free Admission to the After-Party (location TBA)
• Horror-themed photo ops

..... Free CREATURES OF THE NIGHT necklace (for first 100 tickets purchased online - can be picked up at Pour Larry's on Oct. 12th during registration – 1.8" tall stainless steel pendant with 16" necklace - still available.

BAR SPECIALS:
—Bay Street Blues ( $4 shot / $5 drink )
Vampire pussy: bacardi berry, watermelon schnapps sweet & sour and seven
Vampire Bomb: peach bourbon, cranberry, pineapple, splash of red bull
Drink of the dead: grape vodka, cranberry, pineapple
—BOOMY's
Blood bank (drink): secret ingredients $5
Blood clot (shot): secret ingredients $3

— Stafford's Public House
The Gravedigger (shot): van gogh chocolate, irish cream, and cherry juice $6
Vampire's Weakness (drink): bushmill's, raspberry, sour, sprint$6
—Tree House
Adios mother sucker (double): vodka, gin, rum, tequila, sprite, pineapple, blue curaçao, grenadine $8
Girl necks Door (double): vodka, sweet tea vodka, peach schnapps, cranberry, sprite, lemonade $8
Clustersuck (shot):cherry vodka, sprite, blue curaçao, whipped cream, grenadine $4
Fang Bang (shot):rumchata, fireball, grenadine $4
—PS TAVERN: TBA

—POUR LARRY'S: TBA

PARTICIPATING PUBS:
• TBA (Pour Larry's confirmed for Registration from 6-9pm)
• Stafford's Public House
• Bay Street Blues (with Under the Slab vending)
• Boomys
• Tree House
• PS Tavern

OFFICIAL AFTER-PARTY:
• The White Rabbit Lounge (10pm-3am) - FREE ADMISSION with event badge!

SPONSORED BY:
• XIIIWestYork
• Vampfangs
• Industrial Underworld
• Chris Cook Theme Parties

VAMPIRE BALL (the following night): http://www.SavannahVampires.com

Produced by Markster Con

OTHER UPCOMING EVENTS (21+):
Oct. 13th: Vampire Ball (Savannah, GA)
Nov. 3rd: Zombie Bar Crawl (Savannah, GA)
Dec. 1st: Krampus Pub Krawl (Savannah, GA)
Jan. 12th: Wizard Pub Crawl (Charleston, SC)
Feb. 23rd: Crawl Of Thrones (Savannah, GA)
May 4th: May the 4th: BAR WARS PUB CRAWL (Savannah, GA)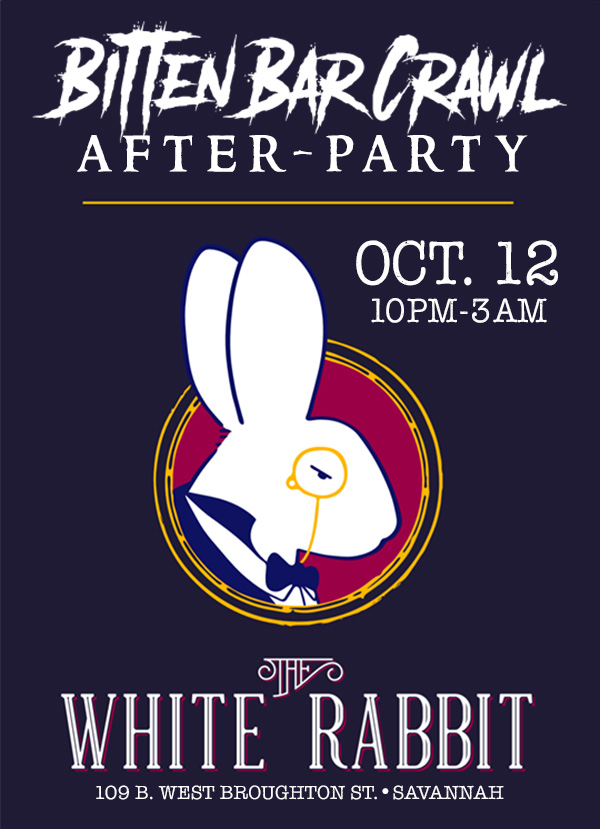 ....more info. to come!!