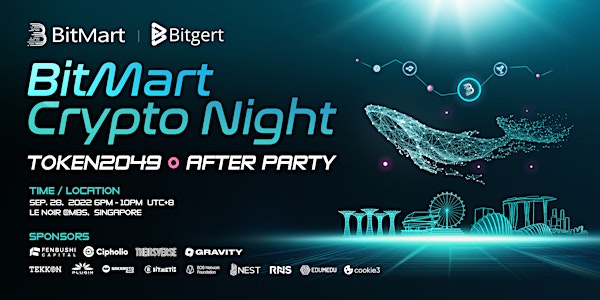 BitMart Crypto Singapore Night-Token2049 After Party
An Exclusive Event hosted by BitMart and Fenbushi Capital at Sunset time on the day of token2049 2022.
When and where
Location
Le Noir @ MBS 2 Bayfront Avenue ##01 - 84 Singapore, 018972 Singapore
About this event
Asia Crypto Token 2049 After party in Singapore, is the 36th Grand Activities Around the World, will be held by BitMart.
Experienced a downturn for most of the year, it's time to ignite lofty ideas!
ETH merge, NFT, Web3.0, Bear Market 2022, Metaverse, Bull Market Forecast, etc. Which topic have u discussed recently? BitMart is here to bring you the latest hot topic and wealthy opportunities in the spotlight with crypto-native attendees including leaders, operators, builders, institutions, and investors from the ecosystem's most innovative and creative organizations.
Our event features food, drinks, and live bands with a spectacular view.
Speak casually in a laid-back vibe!
🎙️ We will randomly airdrop Personalized NFT as souvenir, We just party different !
Please Note
**This event is invite-only and it is up to the discretion of the host to allow the entrance of additional guests. Personalized NFT will be randomly airdropped to the guests as party souvenir**
Venue
Located along the promenade of the iconic Marina Bay Sands, the venue features a unique blend of wood, marble and touches of gold; emanating in a sophisticated yet cosy atmosphere that It is also ideally suited to watch the spectacular water show. With the option of indoor or outdoor seating, there has the perfect spot to enjoy indoor or alfresco drinking and dining, and as the evening progresses, our guests could dancing under the stars.
Host
BitMart - BitMart Exchange is a premier global digital asset trading platform, ranking among the top 15 crypto exchanges on CoinGecko. Officially operated on March 15, 2018, BitMart currently has over 9,000,000 registered users, with the highest daily trading volume of about 7.3 billion US dollars. Headquartered in the Cayman Islands with branch offices in New York, Hong Kong, Singapore, and South Korea, BitMart is now offering 1,000+ trading pairs in spot market and 55+ trading pairs in futures market.
Co-Hosts
Fenbushi Capital - The first and most active blockchain-focused venture capital firm in Asia. Founded in Shanghai in 2015 by veterans across both blockchain and traditional financial industries, it has supported more than 60 leading projects across four continents, leveraging blockchain technology to reshape numerous sectors such as finance, healthcare, supply chain, and consumer goods.
Bitgert - Bitgert is a crypto engineering organization that has built a super-fast blockchain, which has +100k TPS and has zero cost gas fee The Fastest Growing Ecosystem With Projects Spanning DeFi, NFTs, Web3 & Much More, Bitgert Also Has Developed A BRC20/ERC20/BEP20 Supported Wallet on Android & iOS.
Sponsor
Cipholio - A research driven investment firm that invests in cryptocurrencies, tokens, and blockchain companies reshaping trillion-dollar markets. Cipholio's vision is to become the leading investor in the new digital assets economy by leveraging a world class team, global investment reach and experience, and industry-leading deal flow.
Theirsverse - Theirsverse is founded by a group of young artists from diverse cultural backgrounds and gender identities. Theirsverse has created a brand connecting Web 2 and Web 3. From NFT artworks to fashion toys and DTC beauty brands.
* If you are not BitMart user yet, please kindly join us now.
https://datasink.bitmart.site/t/qs
After Party Telegram Link:
https://t.me/BitMartCryptoNight
Please Note: Participation is subject to the terms and conditions applicable to the event.