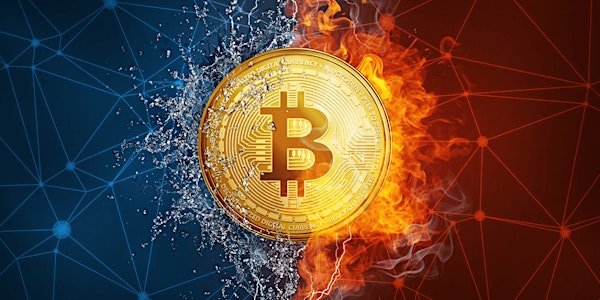 Bitcoin-PESTLER (Political Environmental Social Tech Legal Religious)
A comprehensive dive into PESTLER analysis on Bitcoin. A deep dive into macro-environmental factors on Bitcoin
About this event
We discuss some topics regarding
Political , Economical,l Social, Technological ,Environmental , Legal & Religious factots on Bitcoin.
Some of the topics covered will include
Political:
Is Bitcoin Apolitical ? Created as a movement towards separation of Money & the State. Does Politics & politicians impact Bitcoin
Sanctions : Russia /Ukraine conflict & how politics impacts Bitcoin, Donations, Sanctions
Right Wing vs Left Wing who supports #Bitcoin
Macros level discuss on India ,China, Iran, El Salvador approach & adoption or on Bitcoin
Labour Party vs Conervative stand on Bitcoin & Open source innovation
Economical
Is Bitcoin the biggest Global Wealth Redistribution?
Can Bitcoin change the dynamics of Money, we discuss inflation, exchange rate & more
Have underdeveloped & 3rd world countries really been benefitted by Bitcoin?
Usage of Bitcoin in 1st world vs Underdeveloped nations
Social
Social impact of Bitcoin & Blockchain for generations to come
Bitcoin usage in 1st world vs Underdeveloped world
How did Covid 19 impact the price of Bitcoin
Social trends , age group of people using & accepting Bitcoin as form of money
Technological
User experience of Bitcoin
Different Forks of Bitcoin & future forks of Bitcoin
Upcoming updates Taproot & Schnorr Signature
Economies of scale for setting up mining operations
Is Bitcoin resilient to threats of Quantum computing ?
Legal
Is Bitcoin Legal? Where does governance, regulations & legislation fit it?
What can governments do to support innovation & Bitcoin adoption?
Can a state attack on Bitcoin pose a threat to its ecosystem & existence?
How can government policies on exchanges impact Bitcoin user adoption & its growth?
Can a new Bitcoin ( fork) pose a threat to Bitcoin?
Can Central Bank Digital Currency (CBDC) pose a threat to Bitcoin?
Environmental
Bitcoin mining energy consumption Facts vs Myths
Past, Current & Future state of environmental impact of Bitcoin
Environmental, social and corporate governance discussion on Bitcoin ( Bitcoin Mining Council , Best practices )
Corporate Social Responsibility of Miners
Religious
Is Bitcoin Sharia Compliant?
What are the religious factors & commonality in Bitcoin?
How is Bitcoin seen in the Middle East & more
Acceptance of Bitcoin & religious implications