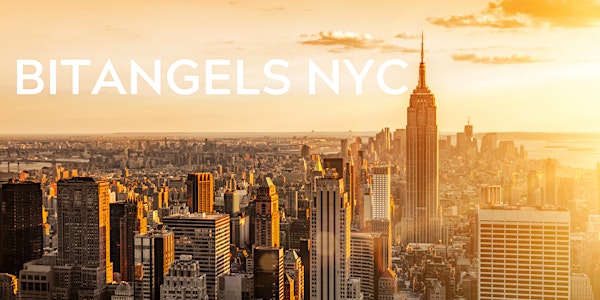 BitAngels NYC November Meeting
Join BitAngels co-founder Michael Terpin conduct a fireside chat with early BitAngels investor David S. Rose.
Date and time
Wednesday, November 13, 2019 · 9:30 - 11:30am EST
Location
Polsinelli Law Office 600 Third Avenue, 42nd floor New York, NY 10016
Refund Policy
Contact the organizer to request a refund.
Eventbrite's fee is nonrefundable.
About this event
BitAngels co-founder Michael Terpin will conduct a fireside chat with early BitAngels investor David S. Rose, who has been described by Forbes as "New York's Archangel". Rose is the Founder and Chairman Emeritus of New York Angels and CEO of Gust, the global platform for entrepreneurial finance that connects over 800,000 early stage companies with over 85,000 investors in 3,500 angel groups, venture funds and accelerators. He is also a leading real estate investor and developer, a pioneer in the field of PropTech, and the blockchain expert for the Real Estate Board of New York's Technology Committee. Rose and Terpin will also discuss the coming convergence of blockchain and real estate.
Gather with other crypto investors and founders at BitAngels on November 13. This breakfast event will provide an opportunity to learn about trends in the crypto economy, up-and-coming blockchain projects, and much more.
Agenda
Our event will run from 9:30 am until 11:30 am. Each company presentation will be 10 minutes, including Q&A.
Registration and Networking
Fireside Chat: Rose and Terpin will also discuss the coming convergence of blockchain and real estate.
Company Presentations
1) NGRAVE (Ruben Merre, CEO)
2) Temtum (Richard Dennis, CEO)
3) Global Liquidity (James Andrew, CEO)
4) Valiendero (Christopher Brookins, Founder & CEO)
5) xDemic (Victoria Feng, Founder & CEO)
Adryenn Ashley, Founder/CEO of Loly.io, Recap of BitAngels Global Pitch Competition
About David S. Rose
David S. Rose is an Inc. 500 CEO, serial entrepreneur, angel investor, author and keynote speaker who has founded or funded over 100 pioneering companies. He has been described by Forbes as "New York's Archangel", by BusinessWeek as a "world conquering entrepreneur", by Crain's New York Business as "the father of angel investing in New York", and by Red Herring magazine as "patriarch of Silicon Alley". He is the New York Times best selling author of both Angel Investing: The Gust Guide to Making Money & Having Fun Investing in Startups and The Startup Checklist: 25 Steps to a Scalable, High-Growth Business.
From his initial involvement with the first online communities in the 1970s, through founding one of the first personal computer training companies in the 1980s, one of the first wireless data information networks in the 1990s, and the first global angel investing platform in the 2000s, David has been at the forefront of innovation in business and technology.
Among the fields in which he has been actively involved as an executive, board member or investor are: wireless communications, consumer electronics, crowdsourcing, international finance, social networking, space tourism, user-generated content, online video, mobile network security, biological testing, electronic music, citizen journalism, out-of-home advertising, fiber-optic networking, concierge medicine, online marketing, interactive voice response, and many others.
As an entrepreneurial executive himself, David is the founder and CEO of Gust, which operates the world's largest online platform and community for entrepreneurs and early stage investors. Gust is used by over 650,000 entrepreneurs in 191 countries to connect with over 80,000 early stage investors.
He is also Managing Director of Rose Tech Ventures; Founder and Chairman Emeritus of New York Angels; Co-founder and Managing Director of the AREA Technology Accelerator; and Associate Founder and Founding Track Chair for Finance and Entrepreneurship at Singularity University, the Google/NASA-sponsored post-graduate program in exponential technologies.
David was the first investor and Chairman of the Board of JUMP Bikes, acquired by Uber, serves as a board director of KoolSpan; and Moven, and is an active early stage investor in companies including RealtyMogul, Space Adventures, PerformLine, Magnetic and Urbanr.
David is well known in the business startup community for discovering and mentoring high-potential entrepreneurs, and has been profiled by BusinessWeek as "The Pitch Coach" for his ability to help CEOs perfect their fundraising skills. He is a regular speaker at the TED conferences, and his TEDtalk on How to Pitch a VC has been viewed over a million times. David has been named a Top Writer for five years in a row by Quora, the knowledge-based website where his more than eight thousand answer to questions about entrepreneurship and investing have garnered him over 80,000 followers. His writings have been featured in Inc. magazine, Huffington Post, Slate, the Wall Street Journal and Forbes. David is a frequent lecturer at business schools including Yale, Harvard, Columbia, Cambridge, UVA, CUNY, Pace, and Stevens, and he was named Mentor of the Year by NYU's Stern School of Business.
Prior to founding AirMedia Corporation in 1988, for which he served as CEO for over ten years, his career included over fifteen years in real estate development, government, teaching and urban planning. David was co-founder and Chairman of The Computer Classroom and Vice President at Rose Associates, Inc. Earlier, he served as Deputy Director of the New York office of US Senator Daniel Patrick Moynihan.
A native New Yorker, David has a BA in Urban Affairs from Yale University, an MBA in Finance from Columbia Business School and a D. Eng. (hc) from Stevens Institute of Technology. He is a graduate of PS 6 in the New York City public school system and of Horace Mann High School. He is an Associate Fellow of Pierson College at Yale University and a member of the Entrepreneurship Advisory Boards of Columbia Business School and Yale University. David can be followed online @davidsrose
With appreciation to our sponsors:

About the organizer
BitAngels is a blockchain and cryptocurrency investor network. Join us for an upcoming BitAngels networking event in your city.

The brainchild of industry leaders Michael Terpin and David Johnston in 2013, BitAngels has grown from being the world's first angel network for digital currency startups to the largest.

BitAngels aims to accelerate blockchain adoption globally by connecting entrepreneurs, investors, and the community through exclusive networking events. Founders are invited to pitch their projects to investors, and investors get an inside look at some of the most exciting up-and-coming blockchain ventures.

Past BitAngels funded companies include Maidsafe, Factom, Ethereum, BnkToTheFuture, Shapeshift, and Storj.