Location
Institute of Hispanic Culture of Houston
3315 Sul Ross Street
Houston, TX 77098
Sales Have Ended
Registrations are closed
Planifique su visita a IHCH, por favor lea todas nuestras indicaciones. Si tiene alguna pregunta, comuníquese con Mariela G. Domínguez a mdominguez@ihch.org //Plan your visit to IHCH, please read all of our indications. If you have any question please contact Mariela G. Domínguez at mdominguez@ihch.org Whatsapp: 832 423 2595
Book your appointment by choosing a date // Reserve su cita eligiendo una fecha
About this event
Exhibition introduces the artwork of Mexican-American artist Bismark Alejandro Reyes.
The exhibition includes paintings inspired by his life experiences connected to his ancestral roots mixed with iconic contemporary urban images.
The exhibition corresponds to the Open Call 2020-2021 project of @IHCHouston coordinated by Mariela G. Domínguez
About the artist:
Although the artist Reyes was born in Houston, Texas, he was raised in both Houston and San Nicolas de Los Garza, Nuevo Leon, Mexico.
Besides continuing his path as a Mexican-American, self-taught, multidisciplinary artist, he is studying Architecture at Prairie View A&M University.
Visit: September 1 thru October 25, 2020 - Free admission / By appointment only
Exposición destaca el trabajo del artista mexicano-americano Bismark Alejandro Reyes.
El conjunto de obra pictórica está inspirada en sus experiencias vitales conectadas a sus raíces ancestrales y un imaginario contemporáneo.
La exposición corresponde al proyecto Open Call 2020-2021 del @IHCHouston coordinado por Mariela G. Domínguez
Sobre el Artista:
Si bien el artista Reyes nació en Houston, Texas, vivió tanto en Houston como en San Nicolás de Los Garza, Nuevo León, México. Además de continuar su camino como artista mexicano-estadounidense, autodidacta y multidisciplinario, actualmente estudia Arquitectura en la Universidad Prairie View A&M.
Visitas: 1 septembre hasta 25 de octubre - Entrada gratuita / Exclusivamente con reserva de cita previa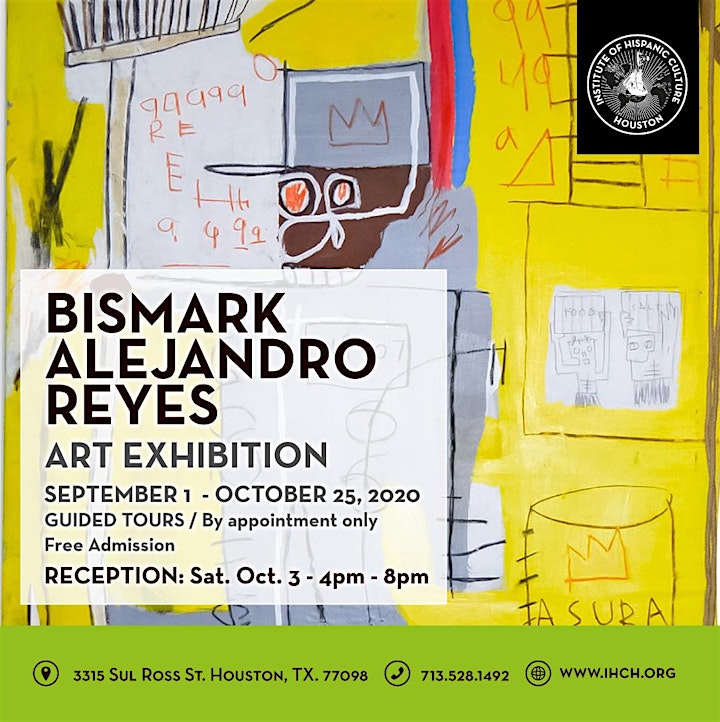 HELP US AND RESPECT THE FOLLOWING GUIDELINES IN ORDER THAT WE CONTINUE OUR ACTIVITIES:
Entry allowed only for people with prior reservation.
Please do not attend if you have symptoms.
Visitor should Wear Face Coverings / Face Masks.
Temperature Check Procedure.
Maintain adequate social distance at all times and take precautions.
All instructions from IHCH staff must be followed.
The IHCH follows CDC guidance on the recommended size of social gatherings.
AYÚDENOS Y RESPETE LAS SIGUIENTES PAUTAS PARA PODER CONTINUAR CON NUESTRAS ACTIVIDADES:
Únicamente se permite el ingreso de personas con reserva previa.
Por favor, no asista si presenta síntomas.
Visitas deben usar mascarilla facial / cubrebocas.
Procedimiento de verificación de temperatura.
Mantenga un distanciamiento social adecuado en todo momento y tome precauciones.
Se deben cumplir todas las instrucciones del personal del IHCH.
El IHCH sigue la guía del CDC sobre el tamaño recomendado de las reuniones sociales.