Webinar capacity has been reached, but you can watch the live stream of the event athttps://www.youtube.com/user/VirginiaSeminary/
About this Event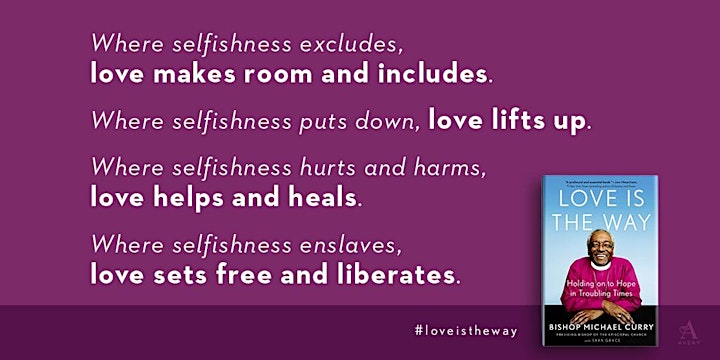 UPDATE: WE ARE AT CAPACITY FOR THE ZOOM WEBINAR REGISTRATION. PLEASE WATCH THIS EVENT LIVE AT https://www.youtube.com/user/VirginiaSeminary/
Join VTS Dean and President Ian Markham and award-winning journalist Ray Suarez on Tuesday, November 10 at 12:45 pm for a virtual conversation with the Most Rev. Michael Curry on his inspiring new book. This event can be accessed from The Center for Anglican Studies Facebook page and the VTS YouTube page.
In his new book, "Love is the Way" (in bookstores now), Bishop Curry expands on this message and offers an inspirational road map for living the way of love. Through the prism of his faith, ancestry, and personal journey, "Love is the Way" shows us how America came this far and, more important, how to go a whole lot further.
By sharing stories from his childhood as the descendent of slaves and the son of civil rights activists, through his ordination, and on to the historic changes and events that have transpired since his election as the first African-American presiding bishop and primate of the Episcopal Church, Bishop Curry illustrates why love is essential for addressing the seemingly insurmountable challenges facing the world today: poverty, racism, selfishness, deep ideological divisions, competing claims to speak for God.
Love is the Way will lead readers to discover the gifts they need in order to live the way of love: deep reservoirs of hope and resilience, simple wisdom, the discipline of nonviolence, and unshakable regard for human dignity. By learning to love completely and unselfishly, we have the power to change the world and put faith into action.
You can get your own copy of "Love is the Way" @ (https://bit.ly/loveisthewaybook)!