Bishop Melvin E. Clark Sr. 60th Diamond Pastoral Anniversary and Appreciati...
Description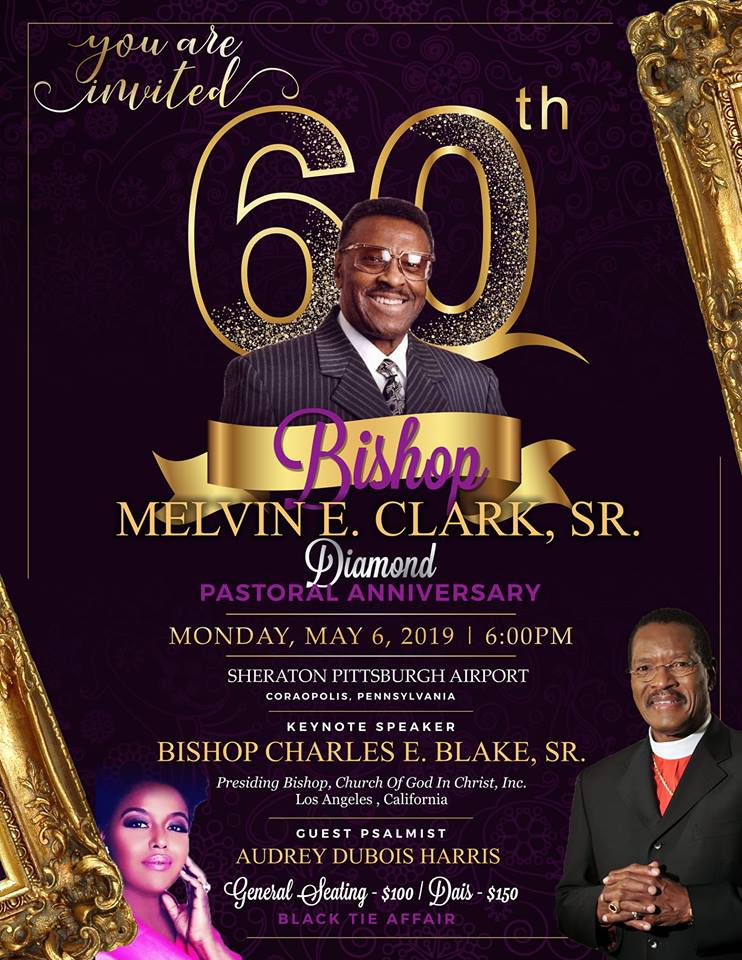 The Church in the Round, It's Official Board and The Community will have special services in honor of Bishop Melvin Clark Sr. & Mother Melissie E. Clark.
They celebrate their 60th year in Pastoral Ministry in Aliquippa, Pennsylvania.
The Diamond 60th Pastoral Anniversary and Appreciation Services will held be at the Church In The Round, Woodrow and Griffith Streets, Aliquippa, PA 15001: in the city's Plan 11 Extension neighborhood
The Epic Celebration culminates with The Gala Dinner : Airport Sheraton Hotel: 5/6/19 at 6:00PM
Keynote Speaker; Bishop Charles E. Blake Sr.
The Very Reverend Bishop Charles Edward Blake Sr. is the current Presiding Bishop of the Church of God in Christ, Inc., a 6 million-member Pentecostal-Holiness denomination. On March 21, 2007, he became the Presiding Bishop of the Church of God in Christ, Inc
Dates
Sunday May 5, 2019 : Official Day Services: 11: 00 AM (The Church In the Round, Aliquippa, PA)

Monday, May 6, 2019 : Gala Dinner: 6:00 PM EST
Location:https://www.linkedin.com/in/daryl-milliner-sr-58aa4891 Sheraton Pittsburgh Airport Hotel 1160 Thorn Run Road, Coraopolis, PA 15108