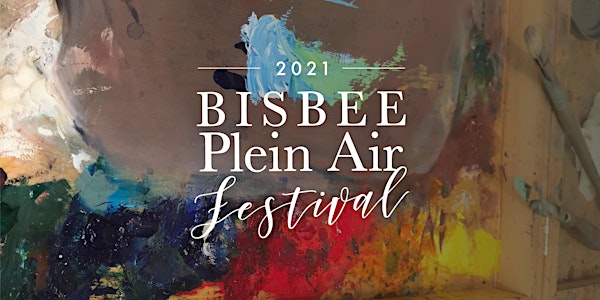 Bisbee Plein Air Festival Oct 6-10, 2021
The Bisbee Plein Air Festival returns in person (safely) October 6 through the 10!
When and where
Location
Central School Project 43 Howell Avenue Bisbee, AZ 85603
Refund Policy
Refunds up to 7 days before event
Eventbrite's fee is nonrefundable.
About this event
THIS YEAR INCLUDES:
Jurors pop up show with artist meet and greet, nocturne painting on Subway, Fast draw and Paint in Grassy Park, Painting the view of Mexico San Jose Peak events: (1 for registrants and 1for kids) at Bisbee Library Annex in San Jose, our wet paint sale, informal critique session. Canvas stamping has moved to the Gulch at Sense of Place Gallery.
We are moving the headquarters of the festival from grassy park over to Central School Project for public health and safety concerns as well as for logistical reasons. CSP has ample indoor and outdoor space options depending on weather and our pandemic public health situation – we are cautiously going forward.
The Bisbee Plein Air Festival returns October 6 through the 10! Join other artists in painting Old Bisbee's historic architecture, sprawling staircases, vintage streets, industrial mining remnants, and colorful homes set amidst the scenic Mule Mountains to compete for $800 in prizes. You also have the opportunity to sell your Festival pieces to the public at the Wet Paint Exhibition and Sale. Start painting any day you wish with the festival dates, there are no requirements for start day.
To download Guidelines and full schedule documents visit our website:
Rules and Regulations
The 2021 Bisbee Plein Air Festival is open to any artist who paints using the plein air technique in oil, watercolor, acrylic, gouache, pastel, or other non-digital media.
All paintings entered in the competition/sale must be done "en plein air" (in the open air where the artist has no control of light or weather) during the event dates in Bisbee city limits. All canvas/paper/boards must be stamped PRIOR to painting. NO unstamped art will be accepted.
Artists may stamp as many canvases as they wish, but can enter only up to four pieces of work to be judged in the competition and sales area. Framing is suggested, but not required.
Artists must provide their own paint kits and sturdy easel(s) for display during judging and will be responsible for the safety of their paintings.
The sales commission is 35% to the Plein Air Fest and 65% to the artist for all sales made during the public receptions.
Central School Project, Bisbee After 5, and associated volunteers assume no responsibility for loss or damage to any work, display or person.
Artists may paint anywhere in Bisbee, which includes Warren, Lowell, the pit, San Jose, et cetera. On Saturday, we request artists paint in Old Bisbee for Wet Paint Sale visibility.
Masks and distancing are required in group settings.
2021 Bisbee Plein Air Complete Festival Schedule:
October 6- 10 - Artists Painting
REGISTRATION & STAMPING Sense of Place Gallery, 63C Brewery Ave.
WED - FRI, 8 am - 12 pm and SAT, 8 am - 10 am
WED, OCT. 6
2:30 pm View of San Jose Peak in Mexico Painting
Library Annex, 519 W Melody Ln. (San Jose District)
FRI, OCT. 81 pm - 3 pm
Kids Paint - Free materials provided
Kids Age 8 & Up Paint
San Jose Peak View with Carol Chandler at Library Annex, 519 W Melody Ln.
FRI, OCTOBER 8
6 pm - 8 pmParking lot receptionJurors' Show Opening and registered artist meet and greetCentral School Project Gallery, 43 Howell Ave.
FRI, OCTOBER 88 pm Nocturne Paint, Subway St.Sam Poe Gallery, 33 Subway St.
Saturday October 910 -11 am Quick Draw & Paint-off in Grassy Park with Sam Woolcott- all that participants get suprises!
MAIN EVENTSaturday October 9 2- 3 pm Artists Check- in their paintings and set up work at Central School 43 Howell Avefor Judging and Exhibition (Indoors or outdoors TBD)
3 – 4 pm - Artists leave CSP for judging time
4 -6 pm EXHIBIT OPEN TO THE PUBLIC FOR VIEWING BUYING
4- 5 pm People's Choice voting
5 pm Awards Presented
Sat Oct 10, 6pm - 8 pm Bisbee After 5 Artwalk, Main St.
Sunday, Oct 10 11-1 pm - Exhibition and Sale continues- and our casual Critique session!