Location
San Francisco Ferry Building
Description
35 Tickets are available at the door on a first come, first served basis.
Raise a Glass to 20 Years of the Ferry Plaza Farmers Market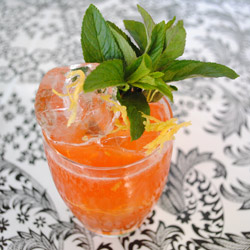 CUESA and the Northern California chapter of the United States Bartenders Guild (USBG) are throwing a birthday party! The Ferry Plaza Farmers Market turns 20 this spring, and what better way to toast two decades of local farms and community than with seasonally inspired drinks, top-chef cupcakes, and bartenders in party hats?

Enjoy 2 full-sized signature cocktails from Tequila Herradura Silver & El Jimador Anejo, 11 sample-sized drinks, and lots of party hors d'oeuvres—all featuring fresh spring produce from our beloved Ferry Plaza Farmers Market.
Participating Bartenders include:
Marc-Andrew Aguilera, Barrel Aged
Brian MacGregor, Wing Tip
Carlos Yturria, E&O Asian Kitchen
Chad Arnholt, Trick Dog
Chris Lane, Lolinda
Erik Mariscal, The New Easy
Andrew Calisterio, Maven
Jessica Maria, Hotsy Totsy
Johnny Codd, Hard Water & Heaven's Dog
Matt Fleeger, 15 Romolo
Rhachel Shaw, Local Edition
Suzanne Long, Mixanthrope
Trent Simpson, Town Hall

Fine Spirits provided by:
American Harvest Vodka
Casa Noble Tequila
Charbay Green Tea flavored Vodka
Distillery No. 209 Gin
Drambuie
Herradura Silver
El Jimador Anejo
Hophead Vodka
Kilbeggan Irish Whiskey
Montelobos mezcal
pür•likör blossom, elderflower liqueur
Remy V
St. George Spirits Botanivore Gin
Participating Chefs & Restaurants:
Matthew Dolan, 25 Lusk
Francis Hogan, Bluestem Brasserie
Ruggero Gadaldi, Beretta
Ruggero Gadaldi, Delarosa
Alejandro Morgan, Lolinda
Isaac Miller, Maven
Adam Timney, Starbelly