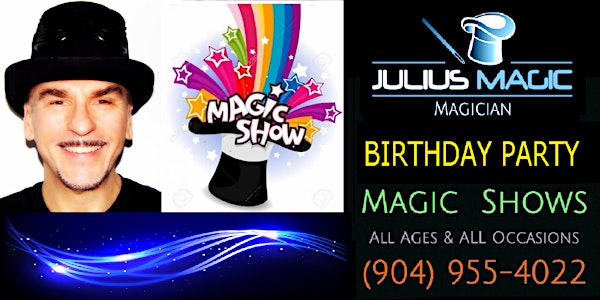 Multiple dates
Birthday Party - Kid's Comedy Magic Show
Magician JULIUS MAGIC performs kid's magic shows at children's birthday parties. Highly interactive & hilarious. Call (904) 955-4022 now!
Date and time
September 11, 2022 · 11am - May 31 · 7pm EDT
Location
Your home or event venue. Your location. Jacksonville, FL 32216
About this event
● FOR ALL AGES ( 4 years old and up recommended)
● SQUEAKY CLEAN
● LOADS OF FUN & LAUGHS
● INTERACTIVE MAGICAL EXPERIENCE
● PLENTY OF AUDIENCE PARTICIPATION
● WE COME TO YOUR HOME or PARTY VENUE LOCATION
● A MAGICIAN IS A GREAT IDEA FOR YOUR CHILD'S BIRTHDAY PARTY!
Call or text (904) 955-4022 to check availability!
Your birthday child will feel very special, mystified & delighted with the magical entertainment that you are providing for them on their special day.
Much of the magic happens right in the children's hands with lots of surprises and laughs!
It's easy to book your magic show!
Contact magician JULIUS MAGIC now at (904) 955-4022 to confirm our availability.
You can also view our rates and prices and check our availability here.
LOOK GREAT! FEEL RELAXED! HAVE NO WORRIES!
EVERYONE WILL LOVE MAGICIAN JULIUS MAGIC!
ENJOY LOTS OF INTERACTION & AUDIENCE PARTICIPATION!
THRILL YOUR AUDIENCE & KEEP THEM LAUGHING!
ENJOY THE WONDER, MYSTERY, & ASTONISHMENT OF MAGIC!
CREATE JAW DROPPING MAGIC EXPERIENCES!
CREATE WONDERFUL MEMORIES OF THEIR SPECIAL DAY!
Whether your next event is months, weeks, days, or even hours away, we would love to speak with you!
We can't wait to meet and magically entertain your guests!
To check availability, call or text (904) 955-4022 or visit our website at MagicianJacksonvilleFL.com
About the organizer
"We deliver leadership team building programs because we need more great leaders and teams to accomplish what needs to get done."
✔️ Leadership Coach
✔️ Team Building Coach
✔️ Motivational Speaker
✔️ Master of Science in Leadership
✔️ Tony Robbins "Unleash the Power Within" Fire Walker
Google Reviews [5 stars * * * * *]
Magician
We perform comedy magic entertainment for birthday parties and corporate events so people can relax and experience the wonder and humor in the world.
✔️ Corporate Magic Entertainment
✔️ Children's and Family Party Entertainer