DJs, Dancing, Beach Volleyball, Sound Meditation, and More! (Jungle Themed!) benefiting Veterans Suffering from Homelessness
About this event
We're back for another amazing Sunday Funday with DJs playing great music, dancing in the sand, competitive and casual beach volleyball, all-levels acroyoga, and a Music Meditation sound bath and of course great high-vibe people!
Beach Volleyball Tournament: 9am -2pm
2x2 Co-Ed Swap your partner style Intermediate/Advanced
4x4 Co-Ed FUN Pool - Individual signup available.
DJ Lineup: 12pm- Sunset with Sweet Nector Music, Maurice, Deep Papaya and Special Guest
Beach Volleyball Lesson: 2 PM and open playing for all levels
Intro Acro Yoga Lesson: 4 PM By Scott Paseltiner
Music Meditation Sound Bath: 6:30 PM by Leo Canneto
Donations Benefiting Veterans Suffering from Homelessness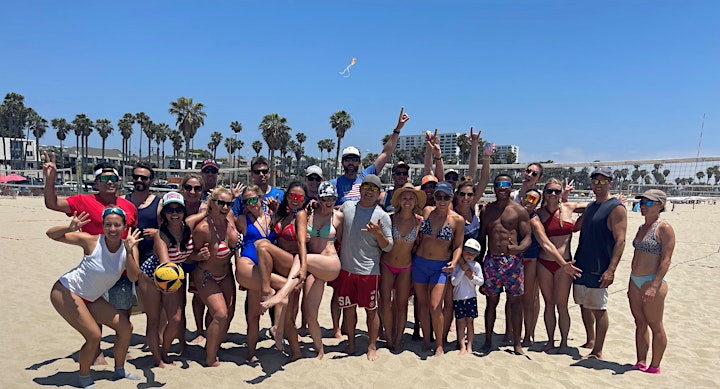 Organizer of Birthday Extravaganza Volleyball Tournament and Party benefiting Veterans
TOGETHER WE CAN
Growing (Ascending) together (US) and making a difference for humanity and the planet we call this UScension.
Uscension by Chara Care is transforming the lives of unhoused veterans in the Los Angeles community.
MISSION: Ascending Together by Finding Solution to Solve Environmental & Humanitarian Matters.
We're bringing awareness to the broader LA area to the challenges that our unhoused veterans face including lack of reliable housing, access to mental & regular health services, and the development of a support community that can bring broader personal and career development opportunities.
Our events bring incredible people together that want to make a difference. Together we are donating to help those most in need.
Beach Volleyball Events, Yoga, Acroyoga, DJ Parties, Burning Man, Toney Robbins Events, Hiking, Biking, Rock Climbing, Salsa Dancing, Wine Tasting, Sky Diving & Traveling the World.
Vacations to beautiful places with activities that promote health and happiness, healthy vegan meals, traveling the world with wonderful friends, growing and thriving TOGETHER!
PEOPLE + PLANET + PURPOSE
Key Areas of Focus:
Mental Health and Homelessness
Promoting Women and Minority-Owned Businesses
Protecting our Planet with sustainable, earth-friendly daily practices and commerce.
Follow our work on IG @brandyca or Facebook @brandycafun