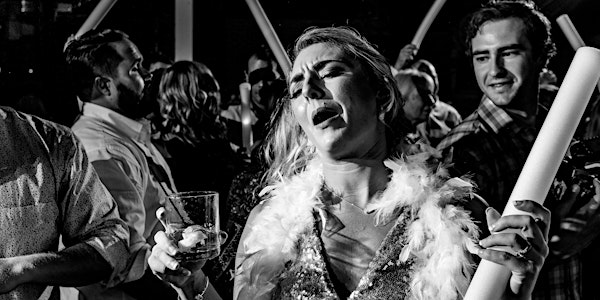 Birthday Bash for a Cure
You're invited to celebrate our 12th birthday as Carolina DJ Pros, and help us raise funds to find a cure for Cystic Fibrosis.
By Carolina DJ Professionals
Date and time
Friday, August 25 · 7 - 11pm EDT
Location
Dilworth Neighborhood Grille (2 downstairs rooms) 11 E Morehead St. Charlotte, NC 28204
Refund Policy
Contact the organizer to request a refund.
Eventbrite's fee is nonrefundable.
About this event
You're invited to our annual birthday party, complete with 3 DJs, Photo Booths, C02 cannons, gifts for guests, and more.
Even better, your donation (which also gets you free beer and wine), goes to the Charlotte Chapter of the Cystic Fibrosis Foundation to help raise funds for a cure.
We'll have 1 DJ outside and 2 downstairs, all mixing different music. We'll have CO2 cannons and photo booths on-site, and giveaways throughout the night as well. Things like Checkers tickets, Knights tickets, free photo booth and event enhancement rentals, tumblers, swag, and more.
So come hang, laugh, dance, have fun, and walk away feeling like it was your own birthday party.
About the organizer
About Our Events:
Lunch & Learns:
Carolina DJ Professionals began hosting Lunch & Learns for the wedding/event/hospitality industry in 2018, starting in Charlotte and then expanding to Asheville & Charleston. Our goal was to create a series of monthly Lunch & Learn events for fellow professionals that focus on improving both our professional and personal lives. How many times do we feel like our businesses are running us, instead of the opposite? We attend networking events regularly, but how often do we share ideas that make our businesses better, our lives easier and increase not just profits, but also our personal and professional joy?
There's power in a community of learning, so we've gathered some of the best professionals around to speak about things they've learned so we can all benefit. Each quarter we have a different topic, speaker, caterer, and host venue. We've had 75-90 attendees on multiple occasions and average 40-60 pros per lunch. There's time to network with other colleagues from 11am until our speaker begins at 12noon. Lunch is served at 11:30. We start the presentation by recognizing our industry partners for that event, and then our speaker begins. We leave time for Q&A at the end before wrapping up at 1:00 pm. There's time after for people to continue to hang out and network if they like. We're honored to host this event and would love to have you join us!
"Recreate The Hits"
Each year, we "recreate" the biggest songs and videos of the previous year in our own fun way. It began as a way to convey our team's fun attitude and showcase that we're a group of fun-loving, passionate professionals, who aren't high on our horse. It's grown to be a yearly highlight not just for our team, but for the dozens of preferred partners we invite to join us.
This is an invite-only event. We invite top industry colleagues who enrich both our business and lives. Maybe they send us considerable business or support us in other ways. Maybe they make event execution easy. Or maybe they just make us laugh every time we see them. Whatever the case, this is a way for us to recognize and say thanks to the industry colleagues who make our lives better.
We'll rent out a venue, hire a videographer, bring a bunch of props, then attempt to "recreate" some top songs. Oh yeah, there will be an open bar for the first two hours of the event, then it'll remain open as a cash bar. We find that helps improve dancing, hahaha!
So if you see this invite come across, we hope you'll join us for a fun night! And just so you know, you don't have to dance! You can "hide" in the background of some shots, or you can just sit down, stay out of the videos, and instead laugh at others. There's no pressure to do anything. We just want you to have fun! BUT if you do get in a video...we always send you a preview copy of the video for you to sign-off on before we post it anywhere. We want to make sure you get represented how you want as well. Come join us for what has become one of the most fun nights of the year for ourselves and our industry colleagues.