BIRMINGHAM URBAN LEAGUE CLASSIC WEEK - VENDORS & SPONSORS

Wednesday, October 26, 2016 from 4:00 PM to 8:00 PM (CDT)
Ticket Information
This event is invite-only
You need an invitation to register for this event. Contact the
host
to find out more.
Event Details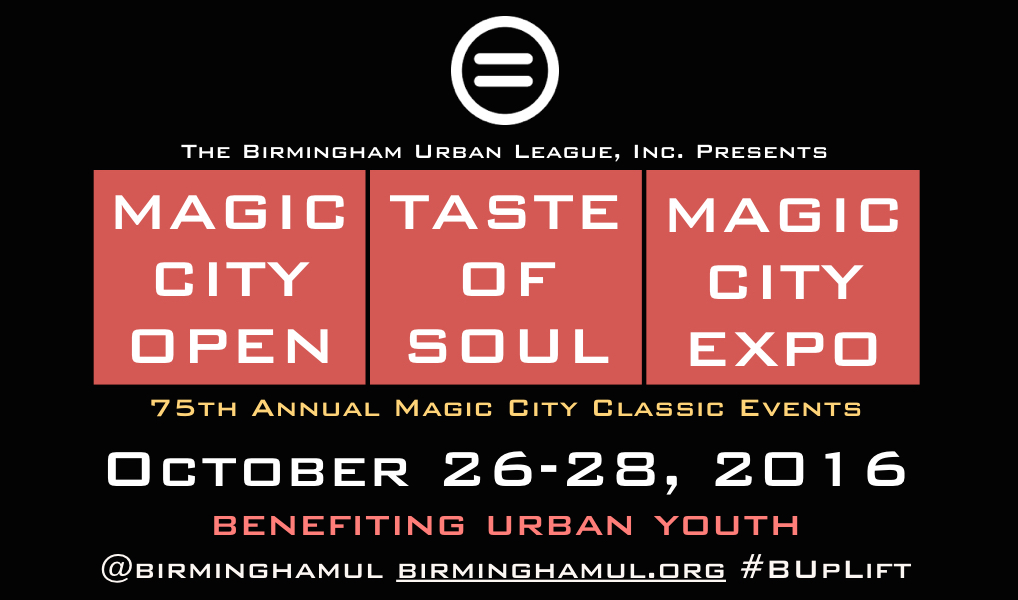 The Birmingham Urban League will expand its efforts to educate and engage the community while supporting local businesses through three premier Classic events.  The Classic Taste of Soul is a food and music experience featuring the best in food and live entertainment.  We also present the Magic City Classic Expo, and host the Opening Reception "Magic City Classic Open" for the Magic City Classic.

Support Urban Youth
The Birmingham Urban League (BUL) presents the Magic City Classic Events to support the 2016 "Birmingham UpLift" campaign to help support the citizens of Birmingham through Education, Earning, and Entrepreneurship.  The goal of the Birmingham Urban League is to continue the work of our civil rights founders by helping to create the next generation of Birmingham leaders and providing access to opportunities through:
Education (mentorship, financial literacy, soft skills),

Earning (high school and college graduation support, job training),

and Entrepreneurship (developing entrepreneurial drive, access, opportunity).
Your support of the Birmingham Urban League helps us to uplift the community for 2017 and includes access to over 65,000 attendees during the 75th anniversary of the nation's largest classic.
Building on the success of the 2015 Taste of Soul, a culinary and music festival, the Magic City Expo will provide national entertainment and inspiration to engage and empower the Birmingham community. Both events will highlight and support local food vendors and artists and raise funds for the 2016 Birmingham UpLift initiative.
Taste of Soul will occur on Thursday, October 27, 2016 from 5-10 PM in the Uptown District, followed by the Magic City Expo on Friday, October 28 from 9-2 PM.  The invite-only, Magic City Opening Reception kicks off the activities on Wednesday, October 26.
Organizer
Birmingham Urban League
The Birmingham Urban League (BUL) is an affiliate of the National Urban League, the nation's oldest and largest community-based movement devoted to empowering underserved individuals.  
www.birminghamul.org | @birminghamul
BIRMINGHAM URBAN LEAGUE CLASSIC WEEK - VENDORS & SPONSORS