Description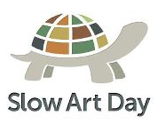 Birmingham Museum of Art
Slow Art Experiences scheduled for 11am and 2pm!

Slow food, slow living, slow… art? Unlock the secrets of works in the Museum's collection by cultivating the art of looking slowly. Our docents ask and answer questions to help guide your Slow Art Experience and foster conversation. Leave the Museum feeling inspired – not tired!
In addition to our weekly Slow Art Sundays, the BMA celebrates Slow Art Day each year along with museums around the world (read more about Slow Art Day and its mission at http://SlowArtDay.com).
This year, join us for thought-provoking conversation about two of the Museum's masterworks. Come for one discussion, or stay for both!
11am // Clay I Am, It Is True, Robert Arneson // Caroline Wingate, master docent
2pm // School of Beauty, School of Culture, Kerry James Marshall // Julia Stork, master docent