Birds of Prey Rock Scramble Day Hike and Migration Watch

Saturday, September 30, 2017 from 9:30 AM to 6:00 PM (EDT)
Event Details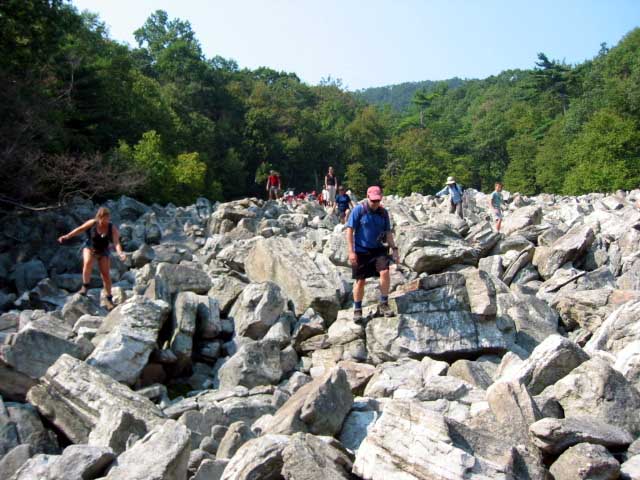 About two hours from NYC you can escape to a place where the eagles, hawks, osprey, falcons, vultures, and more soar in the skies above. In this kingdom of the raptors where spiraling kettles of Broadwing Hawks, Bald Eagles, Hummingbirds and more are migrating for the Fall you get to enjoy a relaxing vista filled experience after a challenging scramble over the River Of Rocks and a tough scramble on the ridge!
REGISTRATION:  https://raptorsept2017.eventbrite.com

Escape Gotham and fill your life and sights with something incredibly amazing this is one place for the day you can't pass up.

SATURDAY, September 30
9:30 AM meet time
About 6 Miles with 900 Elevation Gain
This trip is open to hikers and non hikers. 
The hike is filled with rock scrambles among the endless River of Rocks, and a shimmy, scramble and climb along a ridge trail that connects to the almost 3,000 mile Appalachian Trail. The hiking group is meant for intermediate and advanced hikers. For hikers it is about 6 miles with lots of scrambling and one extremely sustained steep ascent halfway through hike, and one short almost vertical ascent near North Lookout. We will meet up with non hikers at lookout to spend some time enjoying what raptors are on migration. 
Whereas the non-hikers: can take the easier more gentle carriage path to an easy trail for watching birds of prey, including taking in some free programs and side bars as follow:
FREE live Raptor's Up Close birding demos with live raptors e.g. Eurasian Eagle or Barn Owls, to Vultures and Hawks;

FREE Trapping and Tracking presentations;

FREE How to spot and identify raptors using binoculars;

FREE guided Plant Garden tour; and

FREE Name That Raptor with interns who help you spot and identify what is flying over head

Hawk Mountain Sanctuary
1700 Hawk Mountain Road
Kempton, PA  19529
(610) 756-6861
There is no charge to join outing although there is a tax deductible "Trail Fee" = $10 adults.
Bring hiking shoes (good ankle support), 2+ liters hydration, trail lunch, pack to carry your supplies; and
Optional: sunglasses, sunscreen, hat, climbing gloves, camera, binoculars*, warm layer, extra top for after hike, etc.  *Binoculars are available for rental at a nominal fee and deposit - bring ID.
Brought to you by Powermastery - https://www.powermastery.com.
Afterwards we will head over to Dutch family restaurant for quick bite and socializing before heading home. The prices are jaw dropping low, food very tasty although not the best selection for vegetarians. Pork chops is their claim to fame (three different types).
Please register so we know you're showing up.
Let us know what your email and cell/home phone are (in case I have to contact you morning of event).
SATURDAY, SEPT 30  (Rain cancels)
Registration:  https://raptorsept2017.eventbrite.com

This event is FREE although the Sanctuary charges a trail fee ($10) - Hikers and Non-Hikers
If you need a ride share the contribution is $20, and you must complete the registration with the requested contact information.

Bring hiking shoes, trail lunch, hydration, warm layer, day pack to carry items because you will need your hands free; optional: binoculars (also for rent at location), sunscreen, hat, change of shirt (et al), camera, etc.
First and foremost this is a social trip where fun and a positive attitude is the tapestry woven for this trip.
The apres hike destination is a deitsch family restaurant with some great prices. It doesn't have a good selection for vegetarians but this is highest rated eatery and most everything else in the area is also PA dutch focusing on meat dominating the menu.  BYOB! If you want to have a beer or wine for dinner you'll need to bring it, or pick up something at bar next door (not many options as it is a bar and not a liquor store nor grocery with beer options).
Directions from NYC:
Give yourself 2+ hours drive time from NYC. (Give yourself 2.5 hours time due to country roads and traffic)
• Take I-78 WEST thru New Jersey to Pennsylvania
• Continue on I-78 thru Pennsylvania, passing Lehigh Valley exits
• To Exit 35 (Lenhartsville)
• On Rt. 143 NORTH, go 4 miles to Sunoco gas station
• Turn LEFT at blue Hawk Mountain sign onto Hawk Mt. Road
• Go 7 miles to top of mountain, turn LEFT into parking lot


Attendee List
Sort by:

Date

|

First Name
When & Where

Hawk Mountain Sanctuary
1700 hawk Mountain Road
Kempton, PA 19529


Saturday, September 30, 2017 from 9:30 AM to 6:00 PM (EDT)
Add to my calendar
Organizer
https://powermastery.com  is a community based initiative build around trusted networks, breakthough workshops, outdoor adventures, empowerment retreats, holistic health, higher consciousness, spirit, conferences, outings, and trips all built upon an experiential learning platform. 
We connect business owners, entrepreneurs, coaches, and those who want to build a better business. Offering a trusted circle of positive influence and those who seek to take their business, career and/or their finances to new heights.
Life and business mastery
begin when you create your destiny through leadership and personal empowerment for your business, career and personal life while activating the warrior and spirit within with peers who understand and support you. 
23 scientific studies proved group support helps attract, achieve and create miracles.
https://ahikethroughlife.com  is live experiential event outings from Powermastery. It goes out on day hikes, multi-day trips, international tours, and cultural immersions.


Carson Worldwide is the Experiential Event and Strategic Marketing flagship for the activities you enjoy. Interested in increasing your marketing results or creating an amazing event or meeting? We've attracted and catered to 6,000 to 30,000 attendees at large scale events and six to 200 in smaller events. Visit us at http://carsonworldwide.com .

*TERMS: By joining any of our events you agree and acknowledge you are joining on your own without any expectation. You understand you are fully responsible for your own safety, comfort, actions, needs, and inactions on any of our events and hikes, with any ride you may provide or receive, or information you may receive as it is subject to change without notice. You are expected to be prepared mentally, physically, and logistically for hiking in the outdoors (if you are hiking) and for the type of event you are joining. In joining any event you acknowledge you are fully capable and responsible for your own needs as though you never joined the group for the event. Any registration and privacy issues regarding and related to information Eventbrite may be collecting is between you and Eventbrite, not us. You futher agree to release and hold harmless Carson Tang, Carson Worldwide, and any of its assigns from any and all liability and responsibility likewise. By registering or showing up for any event you agree to accept these terms.

**PRIVACY STATEMENT: Any information you provide is used strictly for contacting you to update you on the current event, last minute updates, coordinating room shares, being able to mail you a check if there is a refund transaction, cancellations, et al. Your information is safe with us as we do not sell nor share your information with third party commercial operators. If you request a rideshare we may provide information to the driver who may be able to provide a ride for you (and vice a versa) so that both of you can be connected.
We do NOT employ tracking cookies although Eventbrite may for processing you registration. We also do NOT have AI sniffing through or looking at your behavior for future purchases or sales. Your registration is simply for contact purposes, by us, related to our events only. Al levents require we know who and how many are going to determine what parking lot to use, how many passengers need rides, how many drivers can provide rides and from where, being able to connect drivers and passengers, being able to pair off the same gender where hotel room shares are part of the event, etc.