Birds Hill Park Summer Wind-Up for Sagehill Stables Clients and Guests
About this event
Experience what it's like to stable off property at Manitoba's top show ground!
Students will take part in care of horses, participate in classes in the show ring and learn all the ins and outs of showing!
Boarders and guests can give their horses the experience trailering off property and practice in the show ring or join us on our group trail rides!
Tickets to the BBQ and Games Night on Saturday night is included in all packages!
We hope this will help make showing less intimidating for students in the future, and provide a fun way to end summer after a long year and a half of COVID-19 restrictions and shut downs. This is our way to say thanks to our clients for all your support!
**All riders (lesson students, boaders, guests) must have a valid Manitoba Horse Council membership (recreational membership is OK) to ride at the MHC Equestrian Centre**
Intro to Showing Lesson Packages
$149/day + GST (see attached schedule)
Includes:
2 lessons
theory classes
school horse and tack rental fees
ticket to BBQ and Games on Horseback
Students are welcome to join us on both days or just pick one! Amazing deal for this amazing experience!
Note: It will be mandatory for lesson students to take a chore shift (morning, lunch or evening) on the day(s) they are registered to learn how to care for horses at a show off property. Shifts will be assigned by coaches in advance.
Note: Lesson horses will be assigned by coaches on a first come first serve basis. Leasers will get priority for their lease horse.
**Group trail rides will be by coach invite only and will be an additional fee of $42 for use of lesson horses and coach guide**
Boarders and Friends:
$35/day to join us and hack in the show ring and join in on our guided group trail rides. Also includes your ticket to the BBQ and Games on Horseback event Saturday night!
$27/overnight in stall is additional if you want to stay overnight with us and includes shavings
Boarders and friends are welcome to purchase an Intro to Showing lesson package if they want to join the jumping and dressage/equitation lessons! Instead of the day fee, price will be $90/day which will include 2 lessons, theory class, ticket to the BBQ and day pass for the show ring and group trail rides.
***Please note that a 6 month recent coggins test and proof of vaccination for equine influenza will be required for those horses NOT from Sagehill Stables***
BBQ and Games on Horseback!
Saturday night Aug 28 we will host a BBQ and games on horseback fun event!
Start time is 6pm. 1 BBQ ticket is included with Intro to Showing packages and Day Passes
Additional Info:*Canteen will be available between 10am and 2pm Saturday and Sunday*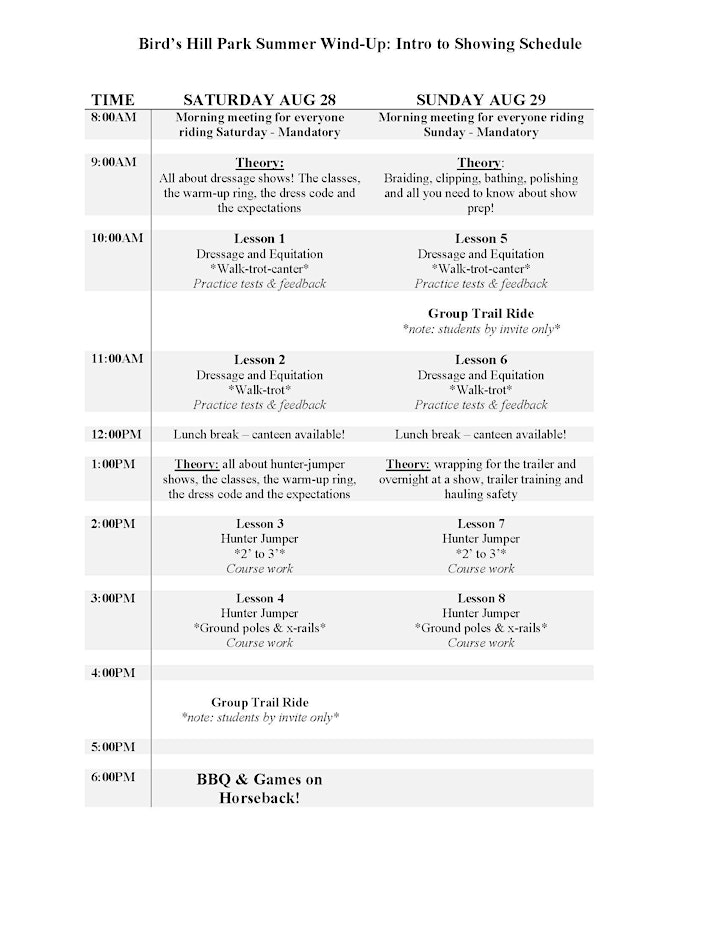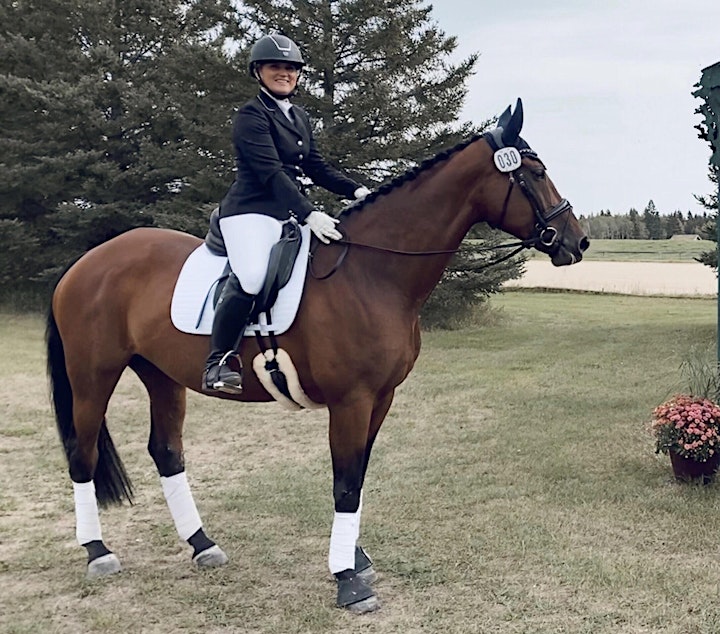 Organizer of Birds Hill Park Summer Wind-Up: Intro to Showing