Come take a stroll to learn about birds at CREW Bird Rookery Swamp with a true birding master - Dr. Bernie Master.
About this event
During this hike, you will learn the common birds - winter residents and CREW nesters as well as what birds are using this valuable habitat and why. We have a great chance to see early songbird migrants as they pass through on their way north to their breeding grounds. Many will be singing and we will learn their songs and how songs are used in population counts. 
An internationally recognized conservationist, Dr. Bernie Master has a Birding Life List that includes over three-quarters of the world's bird species, in excess of 8,300 birds in 126 countries and all 7 continents. He is the first American to see a representative of every bird family in the world.  He was honored by HRH Prince Bernhard of the Netherlands for his contribution to conservation.  A previously unrecorded songbird in Colombia, Vireo masteri, the Choco Vireo, is named for his family and the discovery published in IBIS, October 1996.
Pro Tip: Become a CREW Member and get a discount on your ticket TODAY. Non-members may join CREW and become eligible to take advantage of the member discount for all workshops by going to http://www.crewtrust.org/membership/  or by calling 239-657-2253. Registration for CREW Trust members begins 9/1/2021 at 6 a.m.; non-member registration begins 9/8/2021.
Donations to the CREW Trust are greatly appreciated on the day of the hike or online at http://www.crewtrust.org.
FAQs
What are the parking/facilities like at the trails?
There is a gravel parking lot at the trailhead. There is one portable restroom at the trailhead.
Is this hike kid-friendly?
This hike is for guests 18 years and older in order to provide the best environment for birding.
Can I bring my dog?
This is not a pet-friendly event. Please contact our office if you have a service dog and wish to attend this program so we can work with you.
What are the trails like?
The trails are mostly grassy/sandy ground level trails with some boardwalk structures over wet areas. Expect seasonally wet/muddy places on the trails during the rainy season (July - November). 
What should I bring for this hike? Water and binoculars. Bird guides and notebooks are optional.
Is my registration/ticket transferrable?
Yes. You may give your spot to someone else. Be sure to change the information on your Eventbrite registration page or call us at 239-657-2253.
Can I update my registration information?
Yes, you may update your registration information up to 24 hours before the event on the Eventbrite page.
Do I have to bring a printed ticket to the event?
No. We do not issue print tickets. Simply check in with the event leader at the time of the event.
Can I cancel my ticket(s)?
You may cancel your ticket(s) up to 72 hours prior to the event.
Directions:
From Fort Myers/Naples: From I-75, take exit 111 and turn east (away from Naples) on Immokalee Road (CR 846). Travel 11.4 miles and turn left onto Shady Hollow Blvd. (One mile past the Oil Well Rd stoplight – Shady Hollow is where Immokalee Rd goes from 4-lane to 2-lane). Go to the end of Shady Hollow (approx 2.4 miles). Parking lot is on the right.
From Immokalee: Travel west (toward Naples) on CR 846 (Immokalee Road) for approx. 16.5 miles. Turn right on Shady Hollow Blvd. Travel 2.4 miles north to parking area/gate.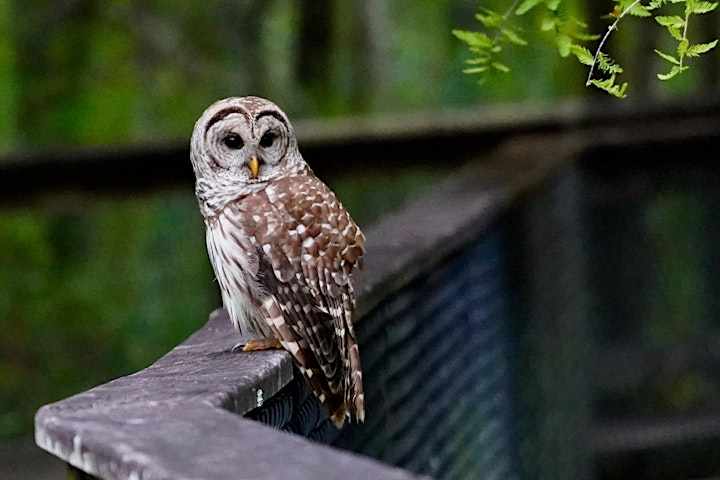 Organizer of Birding with Dr. Bernie Master
The CREW Land & Water Trust was established in 1989 as a nonprofit organization to coordinate the land acquisition, land management, and public use of the 60,000-acre Corkscrew Regional Ecosystem Watershed. We work closely with our partners, the South Florida Water Management District and the Florida Fish and Wildlife Conservation Commission to ensure the protection of the watershed. This watershed, the largest intact watershed in south Florida, straddles Lee and Collier Counties and provides aquifer recharge, natural flood protection, water purification, preservation of wildlife habitat, and public recreation.  CREW's majestic 5,000-acre marsh is the headwaters for the entire watershed.
Members only registration week is SEPTEMBER 1st-8th. Non-members may register after September 8th.