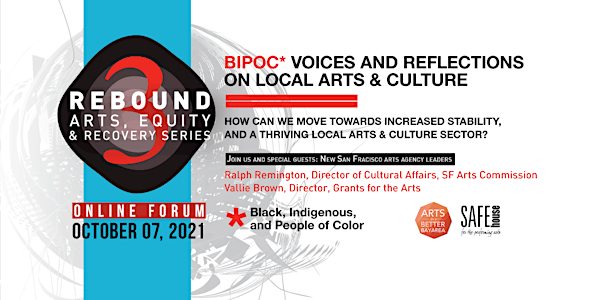 BIPOC Voices & Reflections on Local Arts & Culture
BIPOC Voices & Reflection on Local Arts & Culture - How can we move towards increased stability, and a thriving local Arts & Culture sector?
About this event
Join us with special guests (San Francisco arts leaders & new Directors), Ralph Remington, Director of Cultural Affairs (City & County of San Francisco/San Francisco Arts Commission), Vallie Brown (San Francisco Grants for the Arts), and BIPOC arts & culture leaders as we share details from a community survey and consider solutions and tactics.
For the 3rd series, event hosts Arts for a Better Bay Area (ABBA) and SAFEHouse Arts partnered with local BIPOC (Black, Indigenous, and, People of Color) arts leaders who surveyed the community to learn about emerging issues in the sector as we re-open. This community feedback shaped the upcoming event.
The event will include breakout 'community' sharing and listening circles and space to engage with featured guests.
- Opening poem by Michael Warr
Generous thanks to the collaborating organizations:
African American Arts & Cultural District
Arts for a Better Bay Area
Community Arts Stabilization Trust
Chinese Cultural Center of San Francisco
Filipino-American Development Foundation
SAFEHouse Arts
San Francisco Arts Commission
San Francisco Bay Area Theatre Company
San Francisco Grants for the Arts
SOMArts Cultural Center
Yerba Buena Center for the Arts
Oct. 7th, 4:30-6 PM (Registration ends, 12 noon the day of event)