Guided Practices. Dharma Reflections. Check-ins. Healing Intergenerational Race- & Oppression-Based Trauma in the Body & in Community.
About this event
BIPOC Embodied Refuge, a community for those who identify as Black, Indigenous, and People of Color, meets on Sundays 10-11:30a EST online via zoom. Closed captioning available.
These donation-based gatherings are intended to support studying the dharma together alongside healing collective and intergenerational race-and oppression-based trauma via the body and in community as well as cultivating communal and intergenerational resilience and reclamation.
Our meetings are held utilizing community agreements and the framework of Buddhist principles as an opportunity to find nourishment in community and the dharma. We also utilize the the book My Grandmother's Hands by Resmaa Menakem and other guides.
The meetings will begin with a guided meditation and will also include embodied practices, dharma reflections, check in and discussion, and song. Space will be held for all that's present in a way that supports a trauma-responsive approach, self and collective care, and community and connection.
Our meetings will be faciliated by Lissa except on dates where guest teachers are scheduled. We curently have Kaira Jewel Lingo scheduled on 6/13.
For more information about our facilitators and community, please visit https://embodiedheartmind.com/bipocembodiedrefuge/
If you would like to join Lissa for other embodied offerings, please visit: https://embodiedheartmind.punchpass.com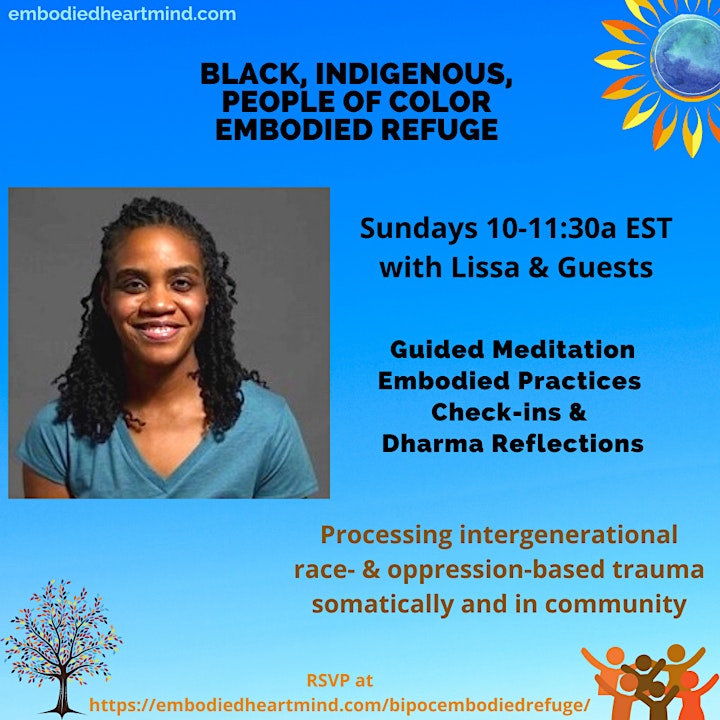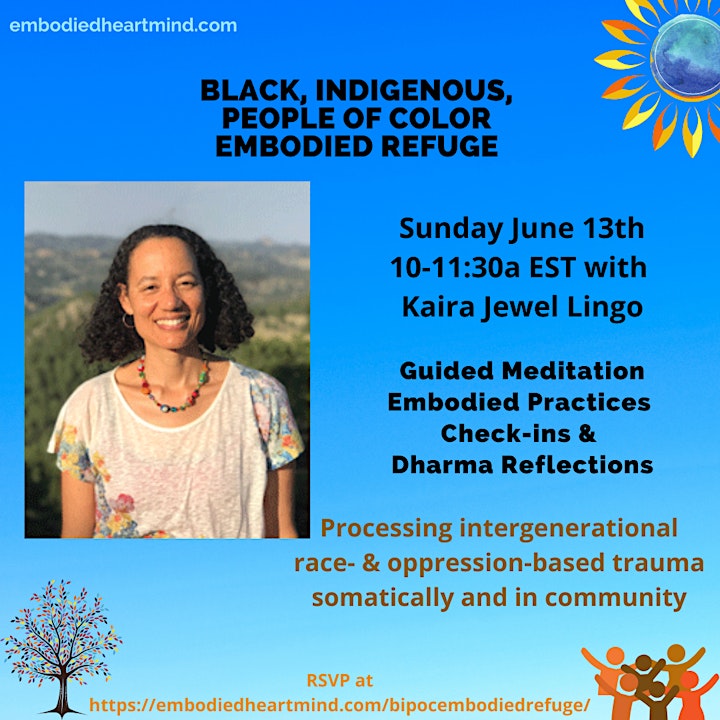 Organizer of BIPOC Embodied Refuge Community
Lissa began practicing meditation in 2008, studies in the traditions of Zen and Theravada Buddhism, and identifies practice as a deep form of love and care. Lissa presently shares trauma-responsive meditation practices through engagement as a certified meditation, yoga, qigong, and interplay instructor, somatic integrative mental health nurse practitioner, and sangha (community) facilitator. Lissa has a deep desire to share embodied meditation practices for the wellness and liberation of all beings and is particularly moved to work with populations less likely to have exposure or access to contemplative practices.
For additional information, please visit  https://embodiedheartmind.com
To join Lissa in embodied offerings, please visit http://embodiedheartmind.punchpass.com