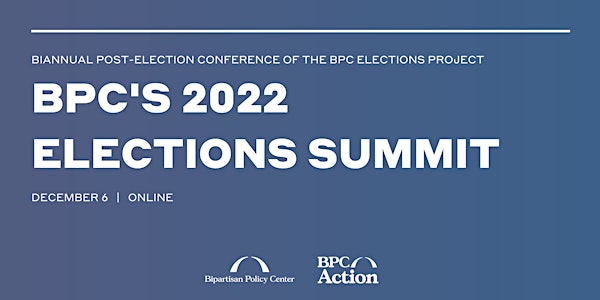 Bipartisan Policy Center's 2022 Elections Summit
Convening the most thoughtful voices in elections to tackle the intractable issues of our moment.
About this event
BPC's greatest strength is as a convener, bringing together the best ideas of elected leaders, experts, and practitioners with an intentional focus on getting things done. Join us for a day-long summit featuring six panel discussions with elected leaders and foremost experts, moderated by journalists on the frontlines of democracy, voting, and election issues.
Panels:
Federal Election Reform in 2023
Threats to Democracy, Election Infrastructure, and Election Officials
Recapping Election Administration in the 2022 Midterms
Election Reform Efforts in 2023 State Legislative Sessions
Election Information & Content Moderation – Review of 2022 and Projections for the 2024 Campaign
Elections and the Courts: Independent State Legislature Theory and Beyond
Featured Speakers:
Jena Griswold - Colorado Secretary of State
Maggie Toulouse Oliver - New Mexico Secretary of State
Katie Harbath - Fellow, BPC's Digital Democracy Project; Founder and CEO, Anchor Change
Senator David G. Argall - Chairman, Pennsylvania State Government Committee
Miles Parks – Voting Correspondent, NPR
Lisa Desjardins - U.S. Capitol Correspondent, PBS NewsHour
Jessica Huseman - Editorial Director, Votebeat
BPC's 2022 Elections Summit is sponsored by MIT Election Data and Science Lab, States United Democracy Center, and States United Action.