Biotypes of CNS Complications in People Living with HIV Meeting
Workgroup meeting of the leading experts in the NeuroHIV field to understand the Biotypes of CNS complications in people living with HIV
About this event
Thanks for your interest in the upcoming Biotypes of CNS Complications in People Living with HIV meeting. Register now!
About the Meeting
Central Nervous System (CNS) complications are highly prevalent, heterogeneous conditions among people living with HIV (PWH) on modern suppressive antiretroviral therapy (ART). The underlying pathophysiology of these CNS complications remains elusive, and no effective therapies exist to slow, stop, or reverse the adverse outcomes that can persist despite virological suppression. Despite multiple efforts to remediate these CNS disease outcomes associated with HIV, there has been limited success due to heterogeneity of etiologies and presentation. In addition, multiple comorbidities (e.g., substance use disorders, cardiovascular disease) as well as social and structural determinants of health (e.g., environmental factors, stigma, trauma) can also affect the CNS outcomes. These issues of heterogeneity are not just limited to HIV associated CNS disease outcomes but have been challenging for several other neuropsychiatric conditions. Thus, the field experiencing a paradigm shift in neuropsychiatry towards integration of psychiatry with the neurosciences to identify biotypes linked with psychopathology.
This proposed workgroup meeting will bring together the leading experts in the NeuroHIV field, to identify and analyze common data elements from the different HIV associated CNS disease studies by integrating elements of underlying psychopathology with the currently available measures such as self-report, neuropsychological testing, neuroimaging, and plasma/CSF biomarker analyses. These efforts in combination with novel approaches that integrate multi-dimensional data and tools such as AI based learning algorithms can help the field ascertain Biotypes/ clusters that are based on psychopathology. This workgroup effort will aid in significantly advancing our understanding of the basic and clinical neuroscience of HIV associated CNS complications. This workgroup meeting is being chaired by Dr. Beau Ances, Washington University in St. Louis and Dr. Leah Rubin, Johns Hopkins University.
For any further inquiries please contact Dr. Vasudev Rao (vasudev.rao@nih.gov)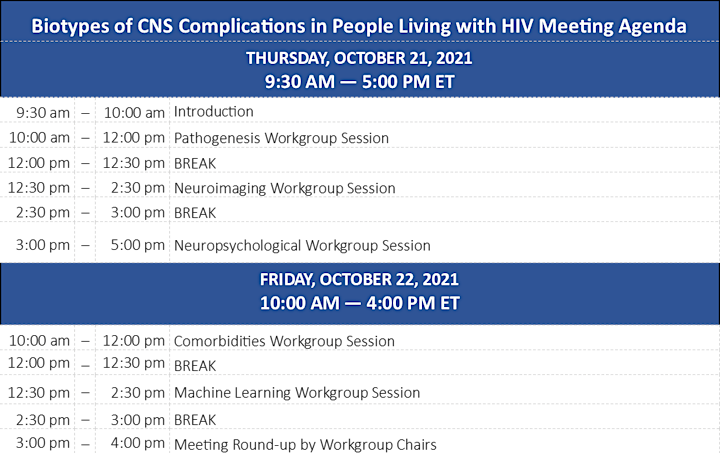 OMB# 0925-0740; Exp date 7/31/2022
Public reporting burden for this collection of information is estimated to average two minutes per response, including the time for reviewing instructions, searching existing data sources, gathering and maintaining the data needed, and completing and reviewing the collection of information. An agency may not conduct or sponsor, and a person is not required to respond to, a collection of information unless it displays a currently valid OMB control number. Send comments regarding this burden estimate, or any other aspect of this collection of information, including suggestions for reducing this burden, to: NIH Project Clearance Branch, 6705 Rockledge Drive, MSC 7974, Bethesda, Maryland 20892-7974, ATTN: PRA (0925-0740). Do not return the completed form to this address.