Sales Have Ended
Registrations are closed
Your Zoom link can be found in your confirmation email, please refer to that email to join. If you have any issues please email biotoc@tribalvisionusa.com.
Sales Have Ended
Registrations are closed
Your Zoom link can be found in your confirmation email, please refer to that email to join. If you have any issues please email biotoc@tribalvisionusa.com.
We have officially introduced BIOTOC in the US, and to celebrate we are inviting you to attend our special virtual event on August 25th.
About this Event
August 25th Event Details
WATCH LIVE ON FACEBOOK: https://www.facebook.com/BIOTOCUSA/videos/811824716224948/
The beauty celebration event of the summer is almost here! We would like to formally invite you to attend our exclusive official BIOTOC virtual launch celebration on August 25. Our first-ever, at-home shopping event will reveal the secret to obtaining professional-level, anti-aging results without injections. Live DIY beauty demos will take place, educating viewers on how to get the most skincare benefits from the BIOTOC line.
NOW AVAILABLE IN THE US: https://dermafirmusa.com/pages/biotoc-for-consumers
Event Theme: Celebrate the Healthy Skincare Movement with Beautiful Minds; Empower, Embrace, Evolve Women in STEM / "Shop at Home"
From 11:00 to 12:00 (EST) the event will focus on the needs of B2B professionals:
Dermafirm USA experts offer support to dermatologists and estheticians who are experiencing business challenges due to the global pandemic
Dermafirm company leadership will personally engage with and offer business survival strategies
Open discussion on the healthy skincare movement's benefits to individual businesses
From 12:00 to 1:00, the event switches gears to the launch of a novel live virtual boutique shopping experience:
Showcasing the official debut of BIOTOC prestige skincare line to the general public
Former HSN on-air host Melinda Lee Foster will MC along with Dermafirm USA leadership and beauty influencers
The goal — tailor healthy skincare solutions to users that can be safely performed at home in the current COVID-19 climate
Featuring live home shopping, demos, special FLASH SALE discounts and giveaways from Dermafirm's entire skincare product lines
Announcing the winner of the #BeautifulMinds micro-grant that will be awarded to a worthy Woman in STEM entrepreneur as part of Dermafirm USA's grassroots initiative to #EmpowerEvolveEmbrace Women in STEM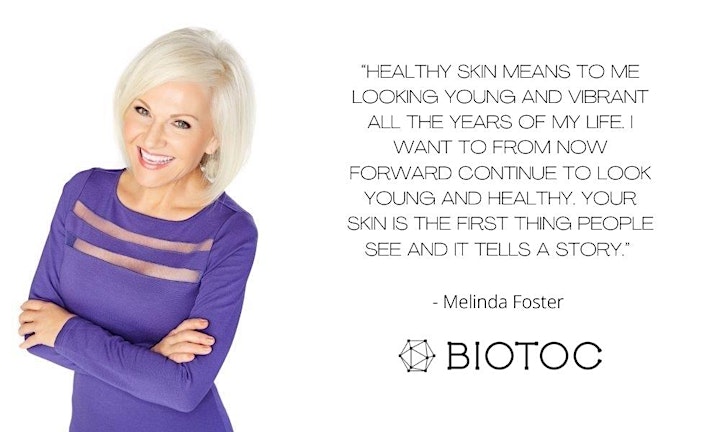 Hosting the event is Melinda Lee Foster, a former on-air host for HSN and member of the BIOTOC Brand Advisory Council (BBAC). Melinda has been using BIOTOC for the last several weeks and feels like it is making a difference for her skin (check out her thoughts in the video below).
A little bit about Melinda: her goal is to use her gifts to make a difference on the planet and personally to inspire women over 50 to see that they still are alive, vibrant, sexy and attractive...in less than 10-minutes a day!
Don't miss the chance to partake in prestige product giveaways and to be one of the first to experience BIOTOC. Register now to receive an exclusive discount code for the BIOTOC 3X Starter Package or other Dermafirm products!*
Meet with dermatologists, estheticians, spa owners, skin professionals, and skincare enthusiasts to learn about the cutting edge technology behind Korea's latest at-home skincare line.
Throughout the event various drawings will take place, allowing lucky participants to win grand prizes, receive special promotions, and earn other exclusive bonuses. Attendees will also be invited to indulge in the first, and only, BIOTOC flash sale.
BIOTOC and other featured products from Dermafirm USA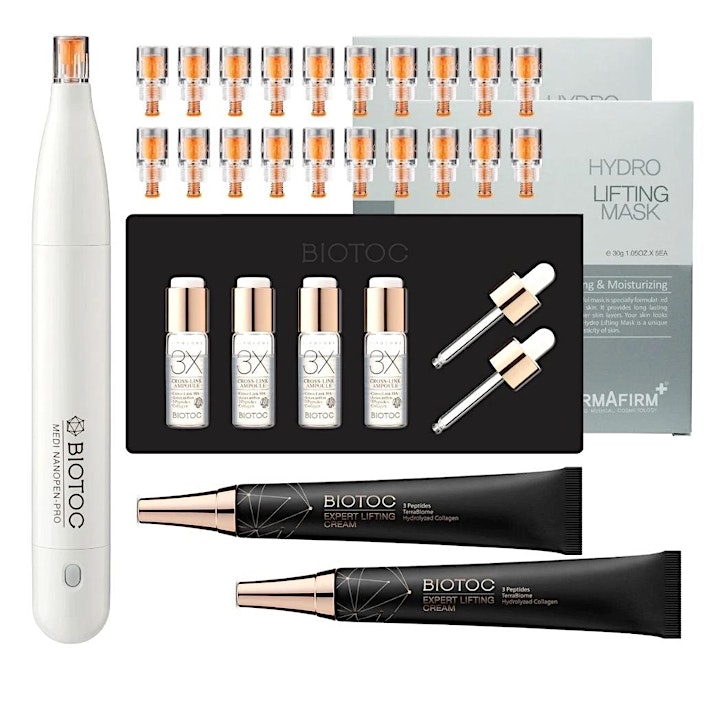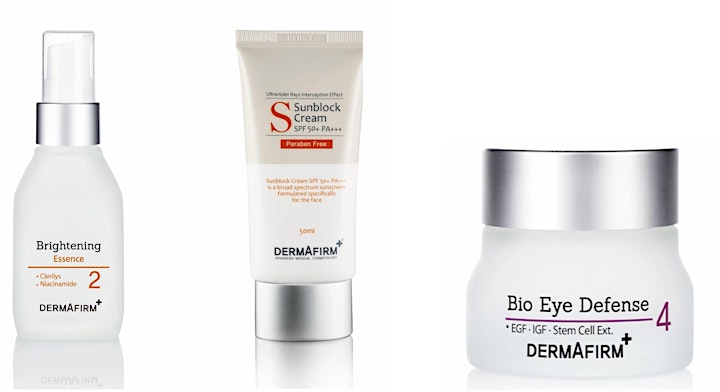 Brightening Essence is a concentrated formula that treats any blemishes and dull skin tones, using the Peptide complex to gradually make discolorations and spots in your skin disappear while also controlling oil-moisture balance levels of your skin. Order one today!
Sunblock Cream SPF50+ PA+++ is a multitasking sunscreen that blocks both UVA and UVB rays, moisturizes, conditions and smooths skin. Formulated with both Titanium dioxide and Zinc oxide ingredients which meet the FDA's "generally recognized as safe and effective" (GRASE) according to American Academy of Dermatology. Order one today!
Bio Eye Defense is a multi-tasking advanced treatment to address signs of aging around the eyes, including wrinkles, dark under-eye circles and puffiness. Order one today!
Testimonials from our BIOTOC Brand Advisory Council (BBAC) - Virtual Events held on July 28-29th with Influencers, Dermatologists, Estheticians, CEOs in Health & Life Sciences, Women in STEM
We provided the BIOTOC Brand Advisory Council—a group of beauty and science influencers/bloggers, dermatologists, and leaders in STEM—with a preview of BIOTOC.
What do they think about BIOTOC and how are they supporting the healthy skincare movement?
Here is what a few of them had to say:
"My skin seemed softer and smoother... I was simply amazed. The one product that I have used that has shown me the most dramatic result."
- Lora Pellegrini, CEO, Massachusetts Association of Health Plans
"You're not seeing just results the people are saying that they are seeing, it has evidence."
- Jennifer Choi MD, Dermatologist, Northwestern.
"I love fresh activation. When a product is freshly activated, it relies on less toxic preservatives. Fresh activation is a big deal."
- Carmine Montalto, SKINCARMA Blogger / Influencer: @skincarma
"I am very very blown away by this product. It was fantastic. [My frown line] has been fading a lot... And that's never happened with anything I've used before."
- Miriam Ben-Dayan, Ph.D. Candidate at Albert Einstein College of Medicine / Skincare Influencer: @mimwieds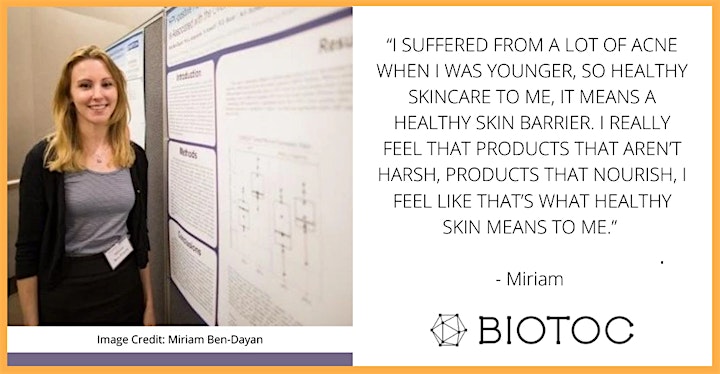 Healthy Skincare Movement
Our mission is not only to educate but also to empower modern consumers to learn about the power of nature's ingredients while removing the need to choose between clean and effective. Through our social initiatives, we are supporting a movement that is helping to change the way the world feels about skin care.
Launching BIOTOC in the U.S.
Rooted in history. Achieved through innovation.

Follow the Evolution of Timeless Skin
Proven practices enhanced by modern technology deliver a skincare line that unlocks the mystery of seemingly ageless skin.
Turn back the clock
BIOTOC
Use #BIOTOCLaunch on social media to share your story and enter our giveaway. Follow us on Instagram for the full details or email us at biotoc@tribalvisionusa.com. You can register now for an exclusive discount code.
Supporting Women in STEM - $2,500 Micro-Grant
At our event, we will be announcing the winner and finalists of our $2,500 #BeautifulMinds Micro-Grant given to a woman entrepreneur in STEM. BIOTOC is committed to empowering, evolving, and embracing women in STEM.
Join us in recognizing and amplifying women in STEM with #EmpowerEvolveEmbrace on social media.
Learn more about BIOTOC at our website!
Register now for an exclusive discount code that can be used on any Dermafirm USA product!
Please contact us with any questions at biotoc@tribalvisionusa.com
Follow us on social media!