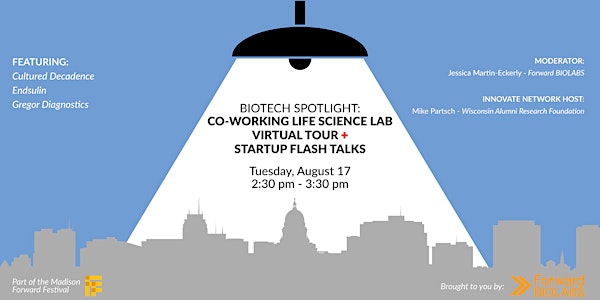 Biotech Spotlight: Forward BIOLABS Virtual Tour & Startup Flash Talks
Get a behind-the-scenes look at Madison's only co-working life science labs
About this event
Forward BIOLABS helps biotech startups move faster, getting started with the right facility and equipment at the right time. Take a look at the co-working lab and hear from some of the game-changing startups working within our community. This panel is for entrepreneurs and industry partners, those starting or scaling any kind of biotech company, and those interested in lessons in innovation, technology de-risking, and early manufacturing from some of Madison's most innovative companies. Presented by Forward BIOLABS, UW-Madison's Innovate Network, and University Research Park.
Flash Talks by Forward BIOLABS Member Startups:
John Pattison, CEO & Co-founder, Cultured Decadence, creating cell-cultured seafood that is nutritious, animal-friendly, sustainable, and provides an authentic experience to consumers worldwide.
Eric Spyra, President & Interim CEO, Endsulin, overcoming the limitations of diabetes treatments with gene therapy that allows the liver to produce and regulate insulin on its own.
Tobias Zutz, Chief Executive Officer/Founder, Gregor Diagnostics, building a better screening test for prostate cancer, the second deadliest cancer for American men.
Moderator/Presenter:
Jessica Martin-Eckerly, Co-Founder, CEO, Forward BIOLABS
Host:
Mike Partsch, Chief Venture Officer, Wisconsin Alumni Research Foundation (WARF)