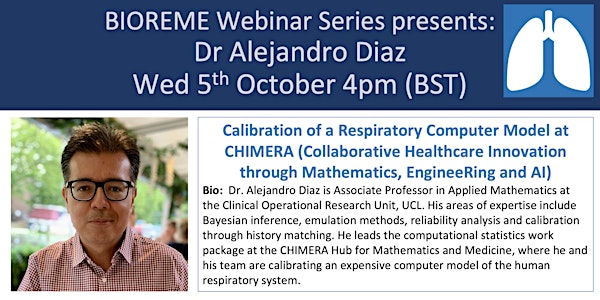 BIOREME Webinar - Dr Alejandro Diaz
We invite you to the latest webinar in BIOREME's webinar series where we are delighted to be joined by Dr Alejandro Diaz
About this event
We invite you to the latest webinar in BIOREME's webinar series where we are delighted to be joined by Dr Alejandro Diaz, an Associate Professor in Applied Mathematics at the Clinical Operational Research Unit, UCL. Dr Alejandro will be delivering a talk on his research at CHIMERA (Collaborative Healthcare Innovation through Mathematics EngineeRing and AI) which research tools such as machine learning to analyse currently unused intensive care data to find clues that will improve the care of critically ill adults and babies.
Talk Title: Calibration of a Respiratory Computer Model at CHIMERA
Abstract: CHIMERA (Collaborative Healthcare Innovation through Mathematics, EngineeRing and AI) is one of four national Hubs for Mathematical Sciences in Healthcare funded by EPSRC, based at UCL. We are working with data from intensive care unit patients through collaborative research between mathematical modelling, data science and AI. As part of this effort, we are currently calibrating a computationally expensive model of the respiratory system. In this talk, we will give an overview of the work packages in CHIMERA, as well as discussing different techniques we are developing for model calibration. The aim is to encourage the discussion on how clinicians, mathematicians and statisticians can collaborate more effectively to support, and potentially transform, clinical decision making.