Actions and Detail Panel
Biopharma Sustainability Roundtable 2017
Wed, Apr 12, 2017, 8:30 AM – Thu, Apr 13, 2017, 5:00 PM EDT
Description
➤ Biopharma Sustainability Roundtable
Wed-Thu, April 12-13 — Novartis Institutes for Biomedical Research (NIBR), Cambridge
Our 5th annual Biopharma Sustainability Roundtable will focus on current industry challenges and opportunities, and on fostering an active network of colleagues. Frank and highly interactive panel sessions and case studies on a wide range of sustainability topics are combined with time for networking and open discussion across a two-day agenda.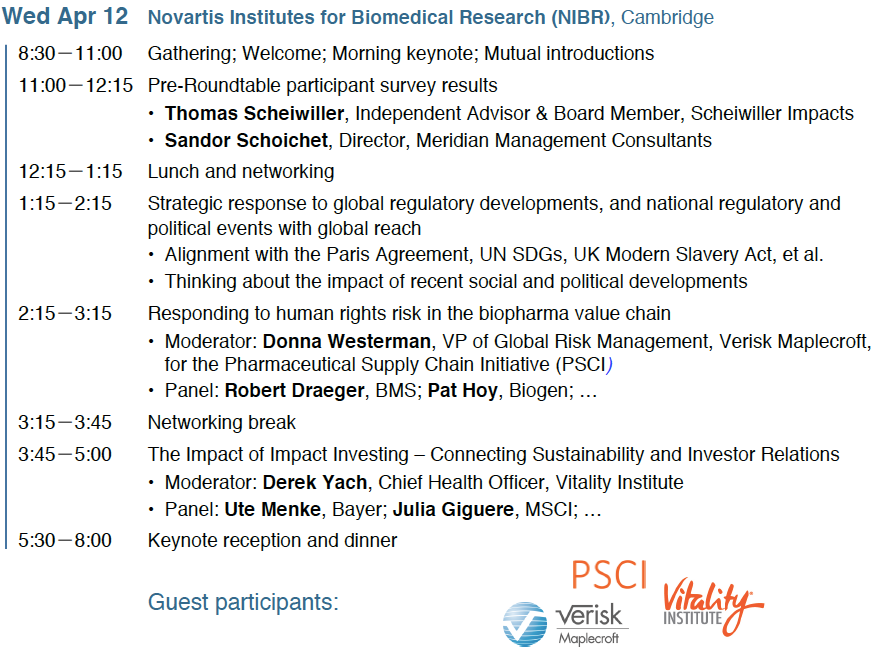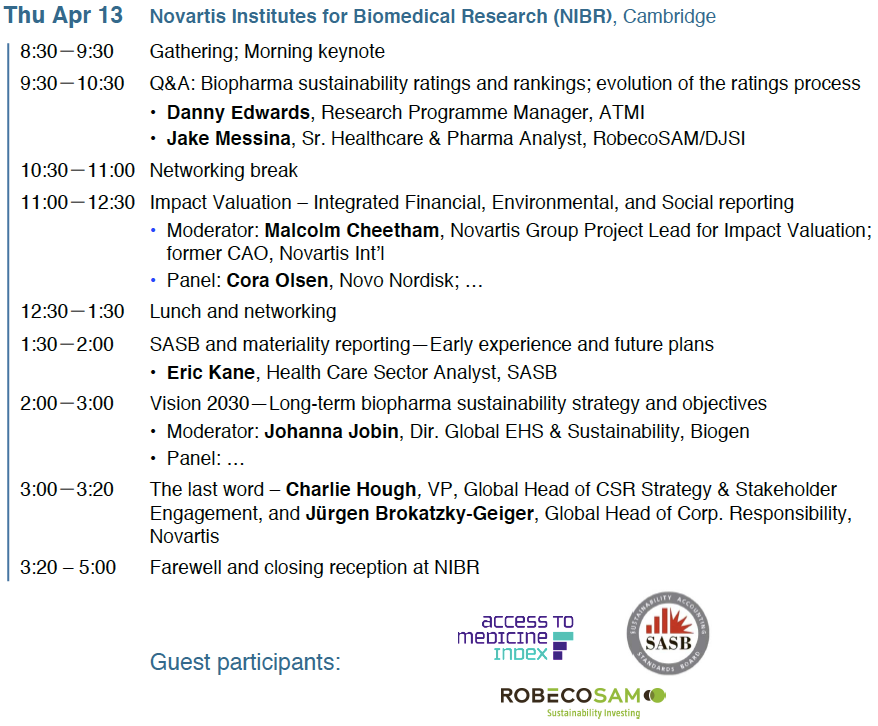 ---
Participation
There is a diverse yet interconnected community of interest around sustainability – companies are encouraged to send more than one participant to represent different functional areas, increasing the mix of perspectives and depth of experience for everyone at the Roundtable.
Who should come? By role, past attendees have included: CSO, VP Facilities & Engineering, Director EHS, Director Capital Planning, Sr. Manager Asset Management, Sr. Director Risk Management, VP Technical Operations, Director Sustainability, Director of Investor Relations, and Head of Corporate Responsibility.
Already participating in the 2017 Roundtable:
Amgen

AstraZeneca

Bayer

Biogen

BMS

Celgene

GSK

MedImmune

Merck & Co.

Novartis

Novo Nordisk

Pfizer

Roche / Genentech

Sanofi / Genzyme

Shire
---
Roundtable Logistics
Schedule: Wed-Thu, April 12-13, 2017, from 8:30 am to 5:00 pm, plus a keynote reception and dinner on Wednesday evening the 12th, and a hosted wrap-up reception on Thursday the 13th.
Registration: Includes breakfast, lunch, and the networking reception on both days, plus the Wednesday keynote reception and dinner. Travel and hotel costs not included.
Location: Novartis Institutes for Biomedical Research (NIBR), 181 Massachusetts Ave., a 10 min. walk from the hotel. Public parking is available nearby for local participants.
Hotel: Marriott Cambridge. A special Group Rate of $289 per night (plus state and local taxes) is available for Roundtable participants until the cut-off date on Monday March 14th. The Wednesday evening Keynote reception and dinner will be held in Salon I/II on the 2nd floor of the hotel.
---
Save the date! Registration available soon ...
➤ Biopharma Sustainability Investor Day —Thu Jun 8 at MSCI, Manhattan
Our 3rd annual Investor Day in Manhattan will connect biopharma and capital market leaders to discuss sustainability issues of mutual concern. Topics will include material factors for long-term financial success, such as access to medicines, pricing strategies, integrity and compliance across the value chain, and the potential business impacts of climate and political change.
---
FAQs
Who can I contact with any questions?
US: Sandor Schoichet, Director, Meridian Management Consultants
sschoichet@meridianmc.com | +1 415 828 1302 | PST
Europe: Thomas Scheiwiller, Independent Advisor, Scheiwiller Impacts
scheiwiller.thomas@gmail.com | +41 79 610 8112 | CET
Does PayPal take credit cards (MC, Visa, AmEx) and corporate P-cards?
Yes. Click on the "Check Out with PayPal" button, then click on the text link "Don't have a PayPal account?" It's right beneath the PayPal login box, and opens a standard credit card payment screen.
Can I request an invoice for off-line payment?
Yes. Click on the link "Show Other Payment Options" right beneath the big "Registration" button. Click the new "Pay Offline" button to complete your registration and have an invoice emailed to you.
Is my registration transferrable?
Yes. Your registration can be used by any other appropriate participant from your organization, though we would appreciate hearing about any changes in advance of the meeting.
What is the refund policy?
Roundtable registration fees are refundable, less a 15% handling charge, until February 3, 2017. Cancellations requested from February 4 – March 3 2017 are 50% refundable, less handling. Registration fees are not refundable after March 3rd.
All Rights Reserved | © 2016-17 Meridian Management Consultants LLC
Date and Time
Location
Novartis Institutes for BioMedical Research (NIBR)
220 Massachusetts Avenue
Cambridge, MA 02139