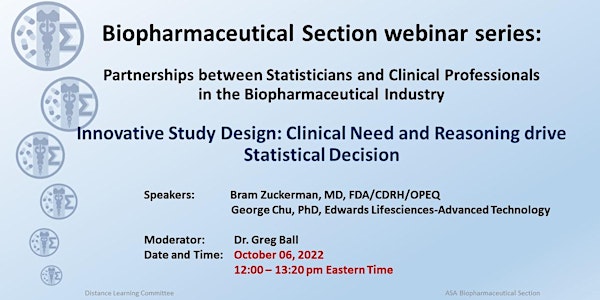 BIOP Webinar Series: Innovative Study Design - Rescheduled
BIOP Webinar - Innovative Study Design: Clinical Need and Reasoning drive Statistical Decision -Rescheduled (October 6)
About this event
Speakers:
Bram Zuckerman, MD, Director, Office of Health Technology-Cardiovascular Devices, FDA/CDRH/OPEQ
George Chu, PhD, Head of Biostatistics and Clinical Data Management, Edwards Lifesciences-Advanced Technology
Abstract:
For many medical devices requiring surgical implantation, large scale randomized, controlled, double-blind studies cannot be conducted due to multiple practical limitations. In addition, device development, as opposed to drug development, often occurs in an iterative manner with subsequent device generations being modified to a minor to moderate extent. Therefore, it is not surprising that many flexible study designs to leverage existing data (external to the current pivotal study) via innovative application of statistical methods (e.g., Bayesian, propensity score) have been adopted in the medical device area. In this talk, within the context of the recent FDA breakthrough program to ensure that patients with high unmet medical need (e.g., Heart Failures) have more timely access to innovative medical devices by expediting their development, we will share our experience in the need for seamless clinical trial design with the possibility to leverage a relevant external existing dataset via an improved dynamic borrowing method by taking clinical reasoning into account via equivalence margin-driven similarity measure to ensure any external data borrowing occurs only when the difference between the current and prior means falls within a pre-specified narrow margin.
Main References:
1. Owen Faris, Jeffrey Shure (2017) "An FDA Viewpoint on Unique Considerations for Medical-Device Clinical Trials." N Engl J Med 376:1350-1357 https://www.nejm.org/doi/full/10.1056/nejmra1512592
2. Breakthrough Devices Program Guidance for Industry and Food and Drug Administration Staff Document issued on December 18, 2018. https://www.fda.gov/regulatory-information/search-fda-guidance-documents/breakthrough-devices-program
3. Michael R. Zile et al (2018) American Heart Journal Volume 204: First Granted Example of Novel FDA Trial Design Under Expedited Access Pathway for Pre-Market Approval: BeAT-HF https://doi.org/10.1016/j.ahj.2018.07.011
4. Thompson, Laura, et al. (2021) "Dynamic Borrowing from a Single Prior Data Source using the Conditional Power Prior." Journal of biopharmaceutical statistics" JBS 31 (4): 403-424
https://doi.org/10.1080/10543406.2021.1895190
Short Bio:
Dr. Bram Zuckerman: Dr. Zuckerman completed training in internal medicine at Baltimore City Hospital and cardiology at the Johns Hopkins program. Prior to joining FDA in 1992, he performed research in pulsatile hemodynamics and practiced cardiology in Colorado and Virginia. He joined the FDA Division of Cardiovascular Devices (DCD) as a Medical Officer in 1992 and was involved in development and review of clinical trials for many new cardiovascular devices. In 2001 he was appointed Deputy Director in DCD. He was appointed Director of the FDA Division of Cardiovascular Devices in 2002 and most recently to Director Office of FDA Cardiovascular Devices in 2018.
Dr. George Chu: Prior to his current role as the Head of Biostatistics and Clinical Data Management at Advanced Technology of Edwards Lifesciences, George has nearly 20 years of public health service at FDA/CDRH. Over that time, he held various positions with increasing responsibility up to Acting Division Director of the Division of Biostatistics in the Office of Clinical Evidence and Analysis at CDRH. He has technical knowledge and extensive experience in the application of a variety of statistical methods for evidence synthesis including Real World Data. George's education includes MS in applied statistics from Penn State University and PhD in pharmacology & Experimental Therapeutics from University of Buffalo. In his spare time, George is a passionate basketball player and has been running a local club over 12 years.