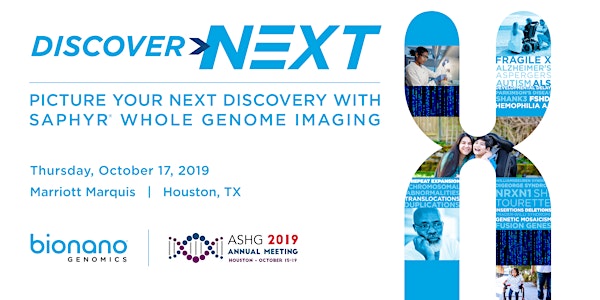 Bionano Genomics Events at ASHG 2019
Bionano Genomics Events at ASHG 2019
When and where
Location
Marriott Marquis, Houston, River Oaks, Level 3 1777 Walker St Houston, TX 77010
About this event

You're invited! Join us at the 2019 ASHG meeting to learn how the Bionano Saphyr genome imaging system enables genome-wide analysis of structural variation in cancer & genetic disease. In addition to our lunchtime Exhibitor Education Event, join our team for a networking reception or book a 1:1 meeting or data demonstration at our booth. Please register to join.
Bionano Genomics Exhibitor Education Event:
Genome Imaging with Bionano Saphyr: Resolving Structural Variants Across the Whole Genome to Power Your Next Discovery in Human Genetics
Date: Thursday, October 17, 2019
Time: 12:45pm - 2:00pm
Location: Marriott Marquis, Houston, River Oaks A,B,C Level 3
*Boxed lunches will be served.
Presentations:
Advanced structural analysis of risk loci for congenital diaphragmatic hernia using optical genome mapping technology Frances High, MD PhD, Staff Physician, Medical Genetics, MassGeneral Hospital for Children, Congenital Diaphragmatic Hernia Research Study, MGH and Boston Children's Hospital, Undiagnosed Diseases Network, MGH
High resolution view of D4Z4 repeat regions for studying FSHD using whole genome optical mapping Alka Chaubey, PhD, FACMG, Head of Cytogenomics and Laboratory Director, Perkin Elmer Genomics
Bionano Genomics' Saphyr resolves complex genomic haplotypes implicated in ALS/FTD, Parkinson's, and Alzheimer's disease Mark Ebbert, PhD, Assistant Professor of Neuroscience, Mayo Clinic
________________________________________________________________________________________________
Bionano Networking Reception
Date: Wednesday, October 16, 2019
Time: 7:00pm - 10:00pm
Location: Brasserie Du Parc, 1440 Lamar St, Houston, TX 77010
Join the Bionano team for drinks, appetizers and a good conversation!
________________________________________________________________________________________________
Explore all the posters and talks covering results achieved using Bionano Genomics technology.

For Research Use Only. Not for use in diagnostic procedures.
About Bionano Genomics
Bionano is a life sciences instrumentation company in the genome analysis space. The Company develops and markets the Saphyr system, a platform for ultra-sensitive and ultra-specific structural variation detection that enables researchers and clinicians to accelerate the search for new diagnostics and therapeutic targets and to streamline the study of changes in chromosomes, which is known as cytogenetics. The Saphyr system comprises an instrument, chip consumables, reagents and a suite of data analysis tools.