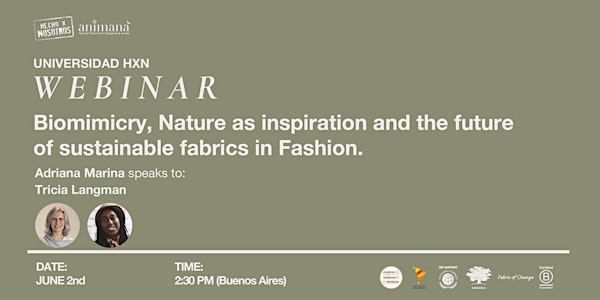 Biomimicry, Nature as inspiration and the future of sustainable fabrics
Biomimicry, Nature as inspiration and the future of sustainable fabrics in Fashion
About this event
Adriana Marina and fellow HxN collaborator Tricia Langman in this webinar will examine Biomimicry and nature-inspired concepts and explore how communities can use natural resources to create materials and fabrics of the future. We will discuss approaches that could help encourage more conversations in the fashion industry around themes like localization and slow fashion and consider cutting edge sustainable techniques and bio-processes that will inform the fabrics and materials of the future in the Fashion industry.
About our speaker:
Tricia Langman has over eighteen years of experience working for prestigious fashion companies worldwide, including Ralph Lauren, Calvin Klein, Halston, Kashiyama, Donna Karan, Nicole Miller, Anthropology, Banana Republic and Nike. Collaborator at NGO Hecho Por Nosotros and advisor to the Board of Fashion Ghana, West Africa. Design projects include work featured at the Costume Institute of the Metropolitan Museum of New York City and a gown for Celine Dion for her performance at the Grammy Awards ceremony. Founder and owner of a successful international Print design studio, while concurrently an adjunct Textile Design and Entrepreneurship instructor. Guest Artist and Creative Director for limited edition Batik collection for Pendleton. Volunteer facilitator for Portland Arts Museum's Arts Scholarship sponsored by Links and founder and Director of the Fashion BioLab Project.
Join Adriana Marina and Tricia Langman on Tuesday June 2nd at 2:30 PM (Buenos Aires Time).
Register Now!