Biomedical Informatics Update 2012

Thursday, February 2, 2012 from 8:30 AM to 4:00 PM (EST)
Event Details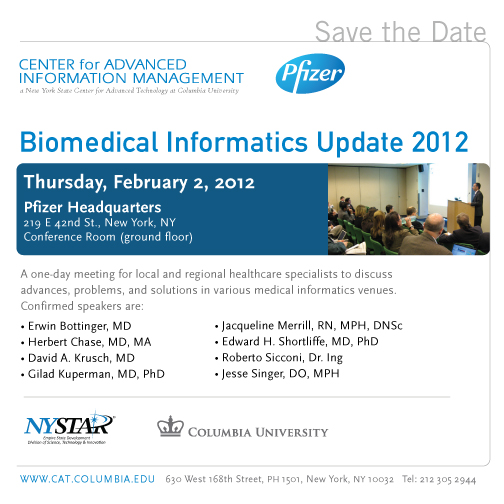 On February 2, 2012, The Center for Advanced Information Management at Columbia University and Pfizer's Biomedical Informatics Services division will sponsor the 2012 edition of
 Biomedical Informatics Update
Topics include personalized medicine; healthcare implementation and evaluations; IBM's Watson technology in medical practice; status updates on health information exchanges, the Primary Care Information Project and Partnership to Advance Clinical Research; and a forward look at biomedical informatics research, training, and practice.
There is no charge for the event, but prior registration is required.  Lunch will be sponsored and provided by Pfizer, Inc.
Biomedical Informatics Update 2012
When & Where

Pfizer Inc World Headquarters
235 East 42nd Street
New York, NY 10017


Thursday, February 2, 2012 from 8:30 AM to 4:00 PM (EST)
Add to my calendar
Organizer
Center for Advanced Information Management
 In 1983, New York State established a Center for Advanced Technology (CAT) Program to promote the collaboration between its industry base and its major research institutions. The goal was to facilitate technology transfer and commercialization using the expertise and resources in academia to benefit companies economically. 
 Currently, the program continues with 15 CATs at 13 institutions located around the state. Each CAT has a specific technology focus (http://www.nystar.state.ny.us/cats.htm) and approach to helping its partner companies. The CAT program is supported by NYSTAR, the New York State Foundation for Science, Technology and Innovation. NYSTAR currently offers a range of programs to help promote the state's technology base.
 Columbia University's Center for Advanced Information Management has been a participant in the CAT program since its inception. CAIM's focus is at the intersection of biomedical science, information technology, and biomedical imaging, with the occasional inclusion of other areas of biomedicine and information processing. Its main contributing units are the Department of Biomedical Informatics and the Center for Computational Biology and Bioinformatics, both at the medical center (College of Physicians and Surgeons), and the Computer Science Department and imaging group of the Department of Biomedical Engineering, both in the School of Engineering and Applied Science. This broad range of expertise serves CAIM well in allowing for innovative interdisciplinary projects involving specialists from both schools and campuses.
 A few of CAIM's industry-focused activities and offerings are –
Grant program for industry co-sponsored research projects

Specialized workforce training courses and seminars

Faculty consulting service, intended mainly for small companies   

Affiliates program providing company access to various and flexible benefits

Technology Forums featuring informative programs focusing on areas of industry interest

External Advisory Board with members from a wide range of companies  

Access to other NYSTAR development programs (funding, technology/legal services, etc.)
 For more information, visit www.cat.columbia.edu or call 212.305.2944.
IBM Healthcare
IBM's healthcare solutions, technology and consulting enable organizations to achieve greater efficiency within their operations; collaborate to improve outcomes; and integrate with new partners for a more sustainable, personalized and patient-centric system focused on value.
For more information, please visit www.ibm.com
For information on IBM Healthcare,please visit http://www-935.ibm.com/industries/healthcare/
For information on IBM T. J. Watson Research Center, please visit http://www.research.ibm.com/labs/watson/index.shtml

Department of Biomedical Informatics
The Columbia University Department of Biomedical Informatics is among the oldest in the nation. Its goals are to discover new information methods, to augment the biomedical knowledge base, and to improve the health of the population. DBMI's 30 faculty members and 60 students work in a highly collaborative environment, applying informatics from the atomic level to global populations. Areas of application include:
CLINICAL CARE. Design clinical information systems and mine the electronic health record.

BIOLOGY. Includes systems biology, structural biology, and virology, on studies in partnership with the Center for Computational Biology and Bioinformatics.

PUBLIC HEALTH. Design systems to promote and protect the health of communities, improve public health systems, and deploy information technology internationally.

TRANSLATIONAL RESEARCH. Integrate biological and clinical knowledge and facilitate multidisciplinary science.
Biomedical Informatics Update 2012