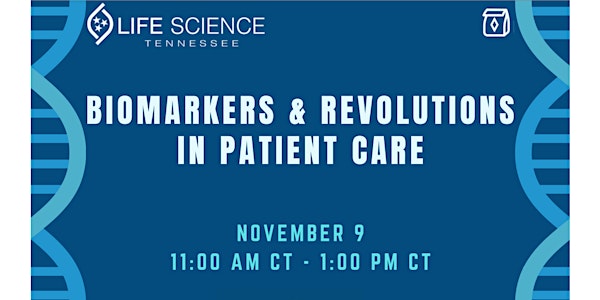 Biomarkers and Revolutions in Patient Care
This event will preview LST legislative priorities for the next legislative session, including a focus on biomarkers and SBIR support
About this event
On November 9 , join Life Science TN and the Life Science Caucus for a virtual event that explores key policy issues facing our industry in the upcoming legislative session as well as open discussions on critical industry issues, including:
Spotlight biomarkers as an important new tool to treat rare diseases and cancers
Feature a life science startup who received SBIR funding
Identify Life Science TN's legislative priorities for the upcoming session
Network with LST members in a virtual event hall
Agenda
Biomarkers and Revolutions in Patient Care: This panel will explore the benefits of genome and exome sequencing to recognize different health challenges and the push for public and private insurers to cover the cost of this sequencing to support diagnostics. Panelists will also address expected state legislation meant to address the costs of sequencing slated for the next session. Speakers include Dr. Scott Strome, Dean, UT Health Science Center College of Medicine; Gillian Hooker, Chief Scientific Officer, Concert Genetics; Emily Ogden, Regional Government Relations Director, American Cancer Society Cancer Action Network; and Abby Trotter, Executive Director, Life Science TN.
Home-grown Tech: An SBIR Success Story: Speaker Cameron Sexton will introduce Justin Baba, chief scientific officer at Yaya Scientific, to talk about his startup journey and how the SBIR match funds they received from the state this year will accelerate their development.
LST Updates & Board Vote: Members will vote on LST's 2022 board and we will provide other updates on our legislative agenda and activities this year.
Note: We are using Lunchpool to develop a custom platform that allows attendees to video chat at virtual tables and move freely from table to table just like in real life. We will send the link out to registered attendees prior to the event along with information on how to access the platform.