Description
Using emerging biotech we can grow our art from living materials. Blur the boundaries between biology, art, and design and explore new ways to introduce microbes into your creative practice.
Exploring bioluminescence, participants will paint with organisms that generate their own light through chemical reactions. Get up close and hands-on with some light-emitting marine creatures. You will learn to culture and paint with dinoflagellates and walk away with your own glowing masterpiece.
Instructor: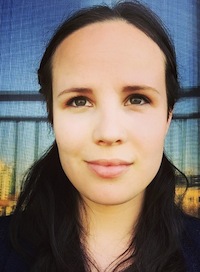 Nikki Romanello received her BFA in Interdisciplinary Sculpture and a Concentration in Photography at Maryland Institute of College of Art. She graduated with an MFA in Studio Art, majoring in Sculpture from the Pratt Institute. She has worked at the Baltimore Museum of Art, Harris Rubin, New Arts Foundry, and the University of Maryland Iron Pour. She participated at the artist residency at Hot Wood Art Center and had a solo Bio Art show at the University Science Center in Philadelphia. Currently, she is exhibiting bioart, working as a TIG welder for Token NYC, and teaching at Brooklyn Brainery and Genspace.