Bioinspired Materials Development for Next-Generation Batteries

Tuesday, June 18, 2019 from 11:30 AM to 1:00 PM (PDT)
Event Details
San Francisco Bay Area IEEE Nanotechnology Council
           2017 & 2014 Nanotechnology Council Outstanding Chapter (world-wide)                 2016 & 2014 IEEE Outstanding Chapter (USA)    
http://sites.ieee.org/sfbanano
Tuesday, June 18, 2019
11:30: Networking, Pizza & Drinks; 
Noon -- 1pm: Seminar 
Please register on Eventbrite before 8 PM on June 17, 2019  
Walk-In attendance is welcomed but discouraged 
Please assist us in our event planning!*   
If you decide not to attend...  - please cancel reservations by 8 PM on June 17, 2019 **
Job Seeker Assistance at this event            (scroll down)
Location: 

EAG Laboratories; 
810 Kifer Road, Sunnyvale
(Parking: on street or in parking lot behind EAG)
ABSTRACT:  
   The demand for storing electricity is growing more rapidly than ever with the increased use of the mobile Internet of Things (IoT) devices and electric vehicles. Thus, safe and cost-effective batteries with high energy density are drawing significant interest in the field.
   In this presentation, a sustainable method to develop battery electrode materials will be presented. By using biomaterials, a rod shape virus (M13 bacteriophage) or a cylindrical shape microbe (Escherichia coli, called as E. coli), the electrodes for lithium-based batteries were fabricated in an environmentally friendly way. Through the interaction between precursor ions and protein assemblies of virus molecules, a wide range of transition metal oxides nanowires has been synthesized at room temperature under aqueous synthesis conditions. Besides, microbes were used as a pore template to create an interconnected pore structure by using lengthy E. coli. These biotemplates are about one million times cheaper and are easier to remove than synthetic porogens such as silica or polystyrene beads.
   The battery electrodes made in a bioinspired method have presented significant performance improvements in Li-ion batteries as well as Li-oxygen batteries. We believe that biomaterials driven material research can provide an efficient and environmentally benign way to build a high-performance device, in particular, next-generation energy storage system.
SPEAKER:  Dahyun Oh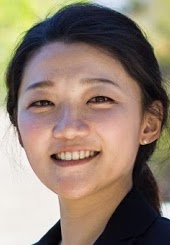 Assistant Professor
San Jose State University
BIOGRAPHY:
is an assistant professor in the department of Materials Engineering at San José State University (SJSU).
    Her current research focuses on the development of next-generation energy storage devices including Li-ion, metal-oxygen, and solid-state batteries.
    Prior to joining SJSU, Dahyun worked as a research scientist at IBM Almaden Research Center after her post-doctoral training at Massachusetts Institute of Technology (MIT).
    She received her Ph.D. in materials science and engineering (MSE) at MIT in 2014, after obtaining her B.S. degree in MSE at Seoul National University in 2008.

If you have questions or problems with your registration, please contact LincolnBourne@gmail.com
 Job Seeker Assistance at this event:
 In response to recent new layoffs, and continuing concerns for people seeking employment,
 SFBA Nano is offering assistance to job seekers.
 1.  A table with CVs/resumes available for people to pick up, and
 2.  An "Announcement Slide" which will be projected during the initial networking session
 Job Seekers:
 1. Bring copies of your resume for distribution & display on the resume table.
 2. Send a one-line description of yourself, to be displayed on the "Announcement Slide" (described above in item 1).
     Example, "Dr. Non Sequitur, over 35 yrs experience in Circular Arguments; seeking Marketing position"  
 Send your one-line description by June 16 to:
 Please feel free to forward this invitation to any of your own colleagues who may be seeking jobs.  
 * Please help us manage our event planning.  When we have many walk-in attendees, it is difficult for us to order the proper amount of food for lunch. 
** Tickets cancelled by 8 PM on June 17 will have payments refunded
Attendee List
Sort by:

Date

|

First Name

|

Last Name
When & Where

EAG Laboratories
810 Kifer Road
Sunnyvale, CA 94086


Tuesday, June 18, 2019 from 11:30 AM to 1:00 PM (PDT)
Add to my calendar