About this Event
Biohacking Congress is an international platform which includes: the regular biohacking conferences in the UK and in USA; the startup competitions; the promotion of digital health ideas and solutions; the market place of selected biohacking products and services; the platform to connect healthcare developments with venture capital.
Biohacking Congress in London 20th February 2020 is a conference that allows connecting like-minded people who want to live a long and healthy life. We also connect and promote the healthy food and nutritional supplements companies with retail, clinical centres and wellness services with modern e-health solutions.
On the Congress, perspective teams and startups will connect with investors, international venture capital and corporate funds for their next step - to accelerate and succeed.
For the help to build their Unicorns🦄.
The Biohacking Congress London will consist of:
✅ Panel Discussions and Keynote Speeches of 20+ famous biohackers, renowned scientists, doctors and nutritionists, popular bloggers, founders of digital health companies, researchers and authors of bestsellers of the latest achievements and solutions in nutrition, sleep, healthy mind, longevity, treatment and digital medicine. Agenda is here
✅Congress marketplace and demo-site are intended for demonstration, sale and promotion of selected 20+ ecological UK products, verified nutritional and medical supplements, healthcare services; 20+ innovation, health devices and solutions.
Exhibiting your innovation product and solution at the Biohacking Congress means having the opportunity to organically grow your business and enter the UK and Global market, for more information please go to Offer for Sponsor
✅Startup Competition as the part of the Startup World Cup. SWC organized by Pegasus Tech Ventures. It consists of a regional series of Startup Conferences all over the world with a Grand Finale in San Francisco with $1,000,000 investment prize. Apply your Startup here
We want to help people to create a world where everyone is inspired their abilities to enjoy a long and exciting existence in this beautiful Universe.
👉Biohacking Congress is your chance to meet the like-minded woman and men, ground-breaking health industries and products - and many more.
Here you need to be if you are interested in becoming the best version of yourself 👉 Biohacking Congress, London, 20.02.2020. http://biohackingcongress.com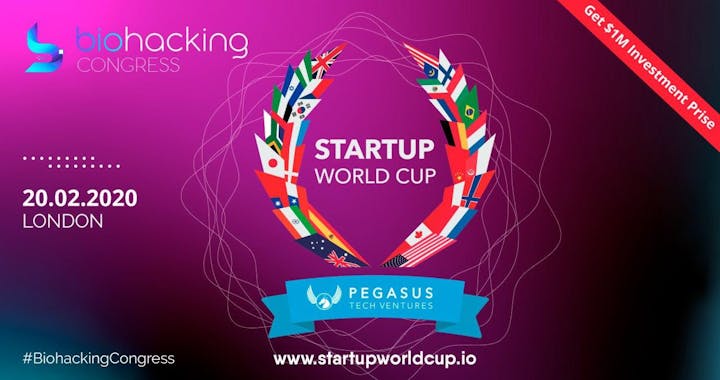 ✅The Startup Competition at the Biohacking Congress, London 20th February 2020 is the part of the Startup World Cup.
Up to 15 Startups from MedTech, Digital Health, BioTech, Healthcare areas on Seed and A-stages will be selected for this Regional Competition in London.
The Winner will showcase at the Grand Finale in San Francisco and compete for a $1,000,000 investment prize.
Startup World Cup is a startup event organized by Pegasus Tech Ventures that is dedicated to launching and advising the world's next wave of leading entrepreneurs.
Pegasus Tech Ventures provides more than just funding. Pegasus assists startups through strategic synergies and partnerships, paving the path for startups across the world. Annual Startup World Cup winners can accelerate their ideas into reality with the help of one million USD in funding and global recognition.
Become a Startup World Cup, Champion Winner 2020!