Bioengineering Strategies for Advancing Treatment of Brain Cancer
Description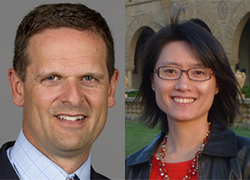 Pediatric brain tumors are the leading cause of cancer-related death among children and adolescents. Only 1 in 5 children with a malignant brain tumor are still alive 5 years after diagnosis. These devastating statistics are due to lack of physiologically relevant in vitro models for effective drug testing, the challenge to achieve targeted drug delivery, and need for better understanding of how to deliver new drugs across the blood-brain barrier.
The brain tumor microenvironment is a complex niche consisting of biochemical and mechanical cues. Previous attempts have relied mostly on standard 2D monolayer culture or animal models to mimic the disease phenotype. However, increasing evidence has shown that cancer cell behavior in 2D differs substantially from the in vivo phenotype, whereas animal models are costly, lengthy to produce, and often cumbersome for mechanistic studies.
In this talk, Drs. Gerald Grant and Fan Yang will discuss about their research designed to develop novel 3D in vitro models that bridge the gap between the 2D culture and animal models. To enhance targeted drug delivery to infiltrating brain cancer cells, an example will be shared on using non-viral engineered stem cells to enhance targeted drug delivery to glioblastoma using a mouse model. Finally, recent progress on overcoming the blood-brain barrier to improve drug delivery to pediatric brain tumors will be discussed.

ABOUT THE SPEAKERS
Gerald Grant, MD, FACS - Dr. Gerald Grant is a Professor of Neurosurgery and, by courtesy, of Neurology and Neurological Sciences at the Stanford University Medical Center. Dr. Grant's clinical focus is on brain tumors and pediatric neurosurgery. As a neurosurgeon-scientist, Dr. Grant is also directing a laboratory focusing on developing in vitro and in vivo models for brain tumor and blood-brain barrier. His research aims to develop interdisciplinary approaches to investigate how to open the barrier to improve survival of children with brain tumors. He is a past recipient of Transdisciplinary Initiative Program Award and Arline and Pete Harman Faculty Scholar Award.
Fan Yang, PhD - Dr. Fan Yang is an Associate Professor of Bioengineering and Orthpaedic Surgery, and the Director of Stem Cells and Biomaterials Engineering Laboratory at Stanford University School of Medicine. Her lab research focuses on developing novel biomaterials tools as artificial cell niche to promote desirable stem cell fates and tissue regeneration or serve as 3D in vitro cancer models. Her lab also develops drug delivery platforms that enables delivery of cells and biologicals in situ to promote tissue repair or targeted drug delivery for eradicating cancer. She is a past recipient of Lucile Packard Foundation for Children's Health Faculty Scholar Award.
---
The MCHRI Seminar Series highlight compelling clinical topics, innovative research, and the latest developments in maternal and child health. The series provides a unique platform for engaging in conversations and collaborating with other researchers across the community.
The seminars are open to all, including faculty, staff, trainees, postdocs, and all members of the research community. Seats are limited, and reservation is required. Limited lunch will be provided on a first come, first served basis. Attendees are welcome to bring their lunch to the event.
Check out more MCHRI Seminar Series!
Questions about registration? Please contact Roxanna Van Norman.