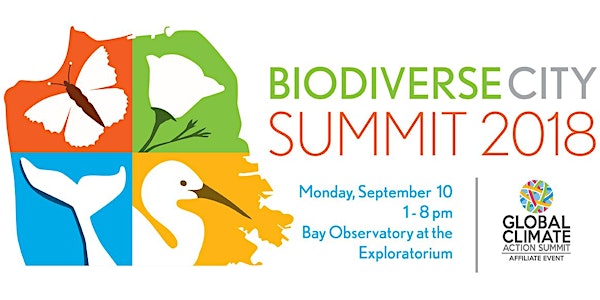 BiodiverseCity Summit at the Global Climate Action Summit
When and where
Location
Bay Observatory at the Exploratorium Pier 15 San Francisco, California
Description
BiodiverseCity Summit at the Global Climate Action Summit
September 10, 2018 at the Exploratorium's Bay Observatory, Pier 15 on San Francisco's Embarcadero
Presented by California Native Plant Society, Yerba Buena Chapter
In partnership with SF Environment (Convener), Exploratorium (Host), Sutro Stewards, San Francisco Public Utilities Commission, Treasure Island Development Authority, The Port, Golden Gate Audubon Society, Nature in the City, Literacy for Environmental Justice, California Academy of Sciences, San Francisco Estuary Institute, San Francisco State University, and the Presidio Trust.

The climate crisis is rivaled by the global biodiversity crisis, and their solutions are interdependent. Cities have in large part generated the climate and biodiversity crisis. And as for climate solutions, cities and their biodiversity are increasingly recognized as critical players for global species and ecosystem conservation and restoration. Since over half of the human population lives in cities, restoring urban biodiversity is critical for connecting everyone to nature where they live, and of course fundamental for climate resilience!
A biodiverse city
… is resilient in the face of climate change… provides nature connection and stewardship opportunities for everyone… is comprised of interwoven places and corridors of native plant and wildlife habitat… conserves flora and fauna on land and in the sea.
The goal of the BiodiverseCity Summit is to share urban nature conservation best practices and the latest thinking from San Francisco and other cities to showcase the critical role of urban biodiversity for climate resilience and human connection to nature.
***NEWSFLASH! Governor Brown signed an Executive Order on Friday, declaring September 7th to be California Biodiversity Day going forward.***



Program Schedule
1 PM – 5 PM
Nature at Home: Biodiversity, Climate Resilience and Nature Connection
Keynotes and panels about biodiversity, restoration, connection, climate change and resilience.

Lightning talks from agency and grassroots efforts in San Francisco.

Topics:
Relationship between biodiversity and climate change,
Ecological restoration and revegetation, native vs. non-native species,
Connecting everyone to nature in the city and inspiring stewardship.
5 PM - 6:30 PM
Reception in the Bay Observatory Gallery and Terrace

Delicious refreshments and libations from local vendors and producers. Generous beverage donation by Fort Point Beer Co.

6:30 PM – 8:00 PM
Biodiversity and Society: What can we do?

Panel with City officials addressing how we can implement biodiversity conservation in San Francisco.

Special Talk on ecology, politics and social change.
* Attend one program or all three. Click REGISTER above to make your selection.*
This is an all-volunteer event hosted by a coalition of local non-profits and City Departments. Please consider making a donation to support this event - we need to fill a gap in our funding - and biodiversity efforts in San Francisco.

Logo design by Christine Weibel, SF Muni Art 2019 Finalist