Description
Class in two sessions:
Sunday, February 4th from 2-5

PM
Sunday, February 11th from 2-5PM
Mycelium (the roots of mushrooms) may very well be one of the most adaptable and resilient organisms on the planet. The largest organism on the terrestrial planet, mycelium is nature's recycler and communication network.
Come explore this fascinating fungi with us. You will grow your own lampshade using mycelium and walk away with a unique functional table lamp to bring into your home or office. Designed by instructor Danielle Trofe, these lamps retail at $125 and have sold out of boutique home furnishing stores.
Learn about mycelium's many functions and characteristics and find out how "nature's glue" is being bio-utilized in many applications across industries as humans seek out more sustainable production processes.
This 2-day biofabrication workshop is hosted by Danielle Trofe, a biodesigner who created the first ever commercialized lighting collection grown using Ecovative's mushroom materials. She'll share insights from four years of experience working with biomaterials and building a career in biodesign and biomimicry.
Students will get to form a lampshade using Ecovative's mushroom materials, watch it grow with the option to create unique outcomes and aesthetics.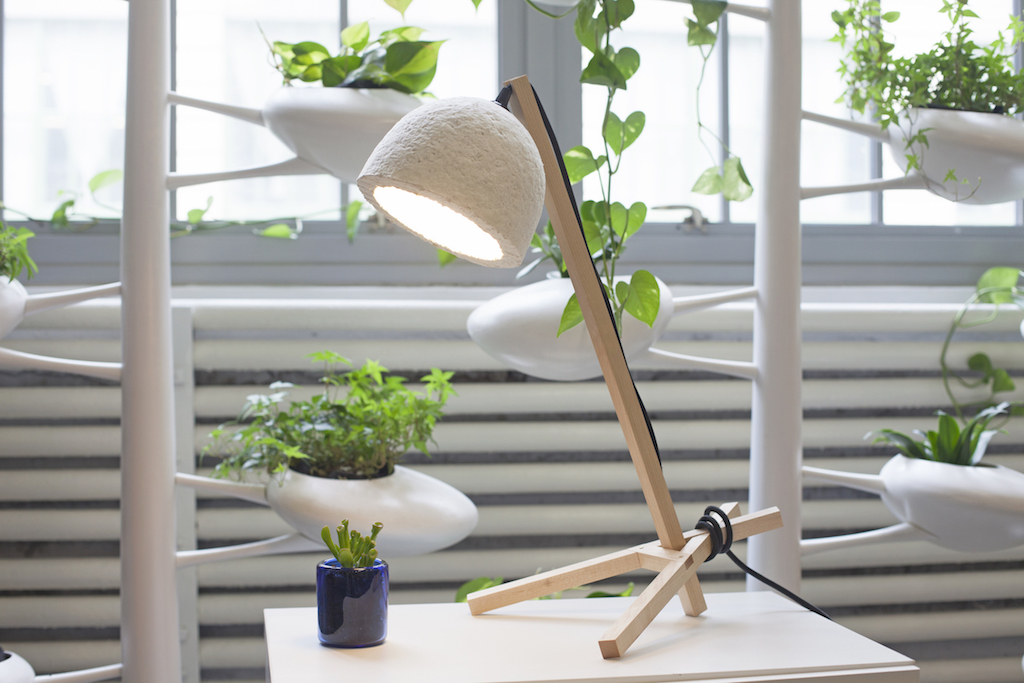 BYOCQ, bring your own curiosity and questions!

Danielle Trofe Design is a Brooklyn-based design studio that promotes a function-forward, sustainable and socially responsible approach to furniture and lighting design. By harnessing innovative technologies and material sciences to create functional and accessible design, Danielle aims to encourage a departure from conventional materials and production techniques in search of long-term, sustainable solutions.
At the intersection of science, technology and design, Danielle Trofe Design has received international awards, been featured in numerous publications and websites, and has been exhibited in several international design shows and museums. In 2012, Danielle worked with BMW to create a custom vertical garden installation for the Born Electric World Tour featuring their new electric car series. In 2014, she created a permanent vertical garden installation at the Brooklyn Botanic Garden located in their LEED certified visitor center and in 2016 installed two additional vertical gardens in the US Botanic Garden in DC. In 2017, a custom lighting installation for 1 Hotel Brooklyn Bridge was publically grown from mushroom mycelium during a month-long gallery exhibit at Industry City. Other projects include: the Hydroponic Vertical Garden -- a self-sustaining, vertical planter system that harnesses hydroponic technology; Sand-Powered Hourglass Lamps -- a table and floor lamp that are powered by kinetic energy generated from falling of sand; and the award-winning Mush-Lume Lighting Collection -- organic, sustainable and biodegradable lamps that are grown from mushroom mycelium.
Event photo credit: Alex Luis Barreto