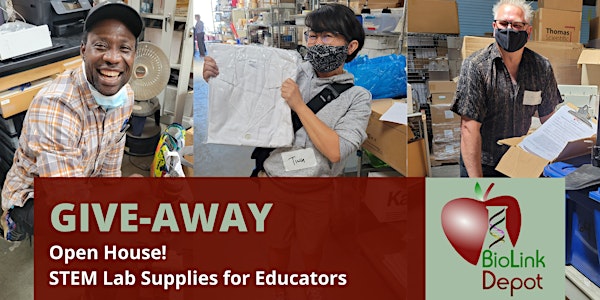 Bio-Link Depot Open House
March Give-Away Open House for All STEM Educators!
Date and time
Sunday, March 6, 2022 · 11am - 4pm PST
Location
Bio-Link Depot 9235 San Leandro Street Oakland, CA 94603
About this event
Join us for our March Give-Away event for STEM educators!
Our next Open House is on Sunday, March 6th in Oakland from 11 am to 4 pm. We invite all educators to join us to collect lab supplies and consumables, as well as some benchtop equipment, for your accredited school - at no cost!
* Please note that early entry from 11 am to 1 pm is reserved exclusively for teachers from Title I K-12 schools. General admission for all educators will begin at 1 pm. Rest assured we have LOTS of stock on hand! And have received many more items since our last Open House.
In order to participate, all attendees from your institution must register ahead. Tickets will be available until Friday, March 4th at 5 pm. You may bring one assistant with you (your supportive partner, for example), but they will also need to register for their own ticket.
** If you register and then cannot make it - please cancel your ticket as soon as possible, otherwise you may prevent another educator from attending in your place.
REQUIREMENTS
Only educators and academic researchers from accredited institutions and their assistants can register for the event.
** New for 2022: If you are with an educational nonprofit or community lab we need you to email us at info@biolinkdepot.org providing some basic background on your program and needs for supplies - so we can pre-authorize your participation.
Please bring a photo ID from your educational institution, or a recent letter authorizing confirming your role there. Without this we may not be able to allow you to participate in the Open House.
Children under 13 are not allowed at the event due to safety requirements.
Please dress appropriately for an industrial warehouse environment: wear closed-toed shoes and clothing that supports a full range of motion. Face Masks are required indoors for everyone's protection.
Please check our website www.biolinkdepot.org for more detailed information about our Open House Give-Away events.
Email any questions to info@biolinkdepot.org.
Be Kind! Have Fun!
Important Give-Away Guidelines
REGISTRATION
Please reserve a ticket through Eventbrite for yourself and your assistant, if any. An assistant arriving in the same vehicle may use your institution name to register. The event gates will open at 10:30 am. Our site is located on a main road that cannot be blocked, therefore no entry or queue will be allowed before 10:30 am. Limited onsite parking is available at no cost.
From 11 am until 1 pm, only Title I K-12 educators will be admitted. General admission for all educators will start at 1 pm.
On arrival, Check In at the Registration Table to have your institutional ID or a certification letter checked, and to receive your badge. You will also receive a Registration/Donation Acceptance Form that will need to be completed before leaving the event.
Please bring your own packing boxes, containers, and bags for collecting and packing out items. We have a limited number of rolling carts you can use while browsing; but feel free to bring your own.
This is a Sharing Economy event, so please limit the number of any specific items you gather to what you really need, in order to give others the opportunity to receive some as well.
On your Acceptance form, write down a list of items you have picked up, as well as their estimated value.
An area of the parking lot will be set aside for you to hold items while collecting additional ones.
CHECKOUT
Fully complete your form then return it to the Checkout Desk where your selected items will be checked against your list and then you will be signed out and free to leave.
INTERESTED IN MAKING A DONATION?
We always appreciate financial support to help defray the costs of operating our Depot, now or in future.
Please visit our website (biolinkdepot.org/donate-funds) to contribute a tax-deductible financial donation to our nonprofit organization, so we can continue our mission to enhance hands-on science education for many thousands of students. And please also spread the word about our program!
About the organizer
Bio-Link Depot is a unique nonprofit that receives donations of laboratory and science equipment and supplies from biotech and other companies such as Genentech, Bayer, Gilead and many others. The donations are sorted and stored at a large warehouse in Oakland. These supplies and equipment are then given out to educators at all levels.
In 2019, Bio-Link Depot distributed $900,000 worth of supplies and equipment weighing about 50 tons to over140 schools, colleges and community labs represented by over 400 teachers and researchers. Over 90,000 students have benefited directly from these donations.
Bio-Link Depot is a 501(c)(3) registered charitable organization that is operated by a network of volunteers and small part-time staff, and is completely supported by financial donations plus by some limited sales of items (not suitable for educators.)