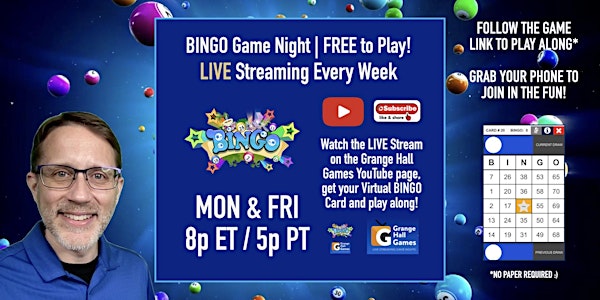 Multiple dates
BINGO Game Night - Live Stream with Grange Hall Games | FREE to Play!
BINGO Game Night Party - Live Stream hosted by Grange Hall Games - FREE to PLAY! | Join the fun and play BINGO with Erik the Host!
Date and time
January 2 · 5pm - December 22 · 6pm PST
About this event
Grange Hall Games hosts the Virtual BINGO Party & Game Night - Join the live stream and come play, hosted live with Erik the Host!
FREE TO PLAY - Join the LIVE Stream on one of the Grange Hall Games channels here (your choice!):
YouTube: www.youtube.com/channel/UCxh_nzCW2xZNlbwZA5wO1GQ
Facebook: www.facebook.com/grangehallgames
Twitch: www.twitch.tv/grangehallgames
Free to Play - Grange Hall Games streams live on YouTube, Facebook & Twitch. Watch the live stream and get your Virtual BINGO card!
We are excited to bring you a FREE to PLAY live-hosted game every week, to get together with our friends, family, and fellow game lovers. Grange Hall Games was created in the spirit of offering a fun place to come together and socialize. Thanks for joining our game tonight!
This evening we will be playing a handful of BINGO games during the session. The winner of each BINGO game will have their name entered into the Wheel of Names. At the end of the event, we will spin the Wheel to award a fun little prize!
Hope to see you there :)
-Erik the Host
#virtualbingo #virtualevents #freetoplay #gamenight #bingo #freebingo #bingonight #grangehallgames #grangehall #livestream #youtube #facebook #twitchstream