Description
Bingo Fabulous is not a typical Bingo event. Expect the gayest most fabulous bingo ever in the history of Salem. In light of all the politics going on, our theme will be Politics is a Drag and include some serious comedy and Drag entertainment. Meet the who's who in the local LGBTQ community as we descend upon Mercy Tavern for an evening of bingo, fantastic food, and drinks.

Equality Salem is creating Bingo Fabulous to help advance the local gay and lesbian community and help improve the lives of local LGBTQ citizens. Our events bring a healthy mix of LGBTQ and professionals from a variety of fields together to play bingo and talk about issues surrounding equality. The event is 21+ only and the only dress code is to dress fabulous!

Bingo Fabulous is completely FREE to enter in order to facilitate all aspects of the LGBTQ community coming together in a friendly environment but you will need to purchase any drinks or food from Mercy yourself. We do have a monthly fundraising goal at every Pink Friday but it is not a requirment to donate.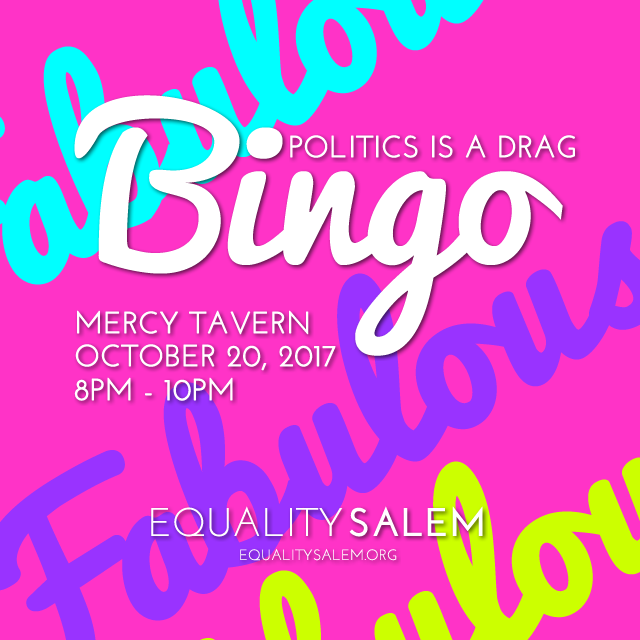 Pink Friday's October Fundraising Goal - Operating Expenses of Equality Salem and More Rainbow Paint for School Crosswalk!

A school is Salem has requested rainbow paint so they can paint the crosswalk in solidarity with LGBTQ students. This month we will be raising money for more paint and also the continued operation of Equality Salem as a non-profit.

About Equality Salem
Our mission is to advocate for equity and an improved quality of life for Salem's LGBTQ community through education, outreach, events, and city wide initiatives. Signup for our mailing list:http://equalitysalem.org/

About Mercy Tavern
148 Derby Street Salem, MA 01970
High quality, locally sourced and sustainably produced food and drink in Salem, Massachusetts.
https://www.mercysalem.com/pub/

Instagram / Twitter / Facebook Tips
One of the best ways to share our events is to use common hashtags when tweeting, facebooking, or instagramming about the event. Don't forget to take photos and share them with everyone using the hashtags below. #EQSalem #BingoFabulous #SalemPoli

Email List Disclaimer
If you RSVP for a Bingo Fabulous event we add you to our mailing list announcing future events and promotions from our organization. By attending a Bingo Fabulous event you give us permission to add your email contact information to our mailing list for future contact. For any questions related to our mailing list policy and user privacy please email thequeen@equalitysalem.org.

Legal Disclaimer
Views or opinions expressed by speakers or sponsors at our local Equality Salem community events do not necessarily express the opinion or views of the Equality Salem organization and we do not take responsibility for the views expressed or the actions of speakers or sponsors at our local events.

We advocate for Salem's LGBTQ Community
Equality Salem was developed to ensure the posterity of accomplishments made by our local LGBTQ community and ensure that LGBTQ citizens have a strong voice in local politics. The importance of equality in our community cannot be overstated. Join us as we develop the local LGBTQ community infrastructure with events, actions, and community initiatives to improve the lives of all community members in Salem, Massachusetts.