About this Event
Please join us for an evening of drinks, conversation, and collaboration. Together with interactive artist Marpi, The Midway Gallery started a series that we call our Binary Salons. Our Binary Salons are a place where artists who are working at the intersection of art + technology can come together to share ideas and practices. These Salons are for artists and by artists.
Binary Salon 12 on Tuesday, August 13 @ 6pm will feature presentations by two-sets of collaborators:
Shihan Zhang and Qinqin Yang of Alterealtiy Studio, will discuss their biomechanical projects inspired by our increasingly technologically centered lives.
And Lady PheOnix and Jacqueline Assar, will lead conversations around their project AIYA, a digital human designed to explore the concept of heightened humanity through learned empathy via twitter.
This event is free with RSVP
Past Salons have featured artists: Inigo Quilez (IQ), Can Buyukberber, Chelley Sherman, Eccoscreen, Osman Koc, Jeffrey Yip, Swan, Cere Davis, Lauren Bedal & Travis Bennett, Donald Hanson, Xiaohan Zhang, Dylan Urquidi, Camila Magrane, Zoey Vero, Nick Shelton, Will Clark, Anastasia Victor, Tyler Freeman, Colin Evoy Sebestyen, Pierluigi Dalla Rosa, Dylan Chapple, Ryan Huber, and Shane Lassiter.
Featured Image by Alterealtiy Studio
ABOUT THE ARTISTS
SHIHAN ZHANG Shihan Zhang is an award-winning Design Futurist whose passion lies in challenging cultural stereotypes and social preconceptions through building experiences of future-present intersections. Her works are expanding technologies' possibilities and extrapolating world conditions to forecast plausible futures and address Anthropocene challenges. Her projects have been humbly recognized by Fast Company World Changing Ideas Awards, International Design Excellence Awards (IDEA), Core77 Design Awards, etc. She also gave talks and exhibited works worldwide in Dutch Design Week, Toronto Design Festival, Foodinno Conference, Chengdu Design Week, and etc. She is the co-founder of Altereality Studio, the Exhibition Chair of PRIMER Conferences, the Design Director of SF Design Week Award Exhibitions, and currently an artist incubator in Gray Area Art and Technology.
Website: www.shihanzhang.com
Instagram: @shihandesign
Alterreality Studio: https://altereality.studio/
QINQIN YANG is an interdisciplinary designer with mixed background in interaction design, speculative design and creative technology. She received her Master of Fine Arts in Design and Technology from Parsons the New School of Design and Bachelor of Science in Electrical Engineering with minor in Art History from University of California - Los Angeles. She holds three individual patents for innovative designs and her work have been exhibited at Immersive Storytelling Symposium, Platforme Gallery, PRIMER and Gray Area etc. As a co-founder of Altereality Studio, she takes design as a method to question the cultural, social and ethical implications of emerging technologies in order to envision the future and reflect on impact within a larger system.
Website: www.qinqinyang.com
Instagram: _summersoda
Alterreality Studio: https://altereality.studio/
LADY PHEONIX is a curator of contemporary art and a passionate producer of creative works at the intersection of visual art and technology. She elevates and amplifies the work of artists through curated group shows organized in her virtual gallery, @yesuniverse.art on Instagram. She has organized exhibitions for the Museum of the African Diaspora in San Francisco, 836M in San Francisco, Library Street Collective in Detroit and HuffPost Arts. As an autodidact, she began curating in 2015 as a form of creative self-care. #theyesuniverse has reached a global audience of millions, making it a virtual institution. Lady PheOnix is regarded as one of the most influential virtual gallerists and curators, having built an engaged community of dynamic artists and collectors by leveraging virtual space's ability to generate and facilitate new forms of collaboration. She currently lives and works in the Bay Area.
JACQUELINE ASSAR is a XR creator with an academic background in cognitive science. Her work explores the relationship between humanity and emerging technologies such as augmented reality, virtual reality and artificial intelligence. She currently works at Magic Leap. Prior to Magic Leap, she founded Coresights, a virtual reality healthcare platform with real-time biometrics backed by MIT Play Labs. She was selected as a 2016 Oculus Launchpad Fellow, a Microsoft SH//FT Spotlight recipient and her work has been shown at the MIT Tech Conference, Institute of Contemporary Art, TEDxYouth and Games for Change. Her most recent project AIYA explores the creation of digital humans with traditionally non-digital traits such as empathy, grief and aging.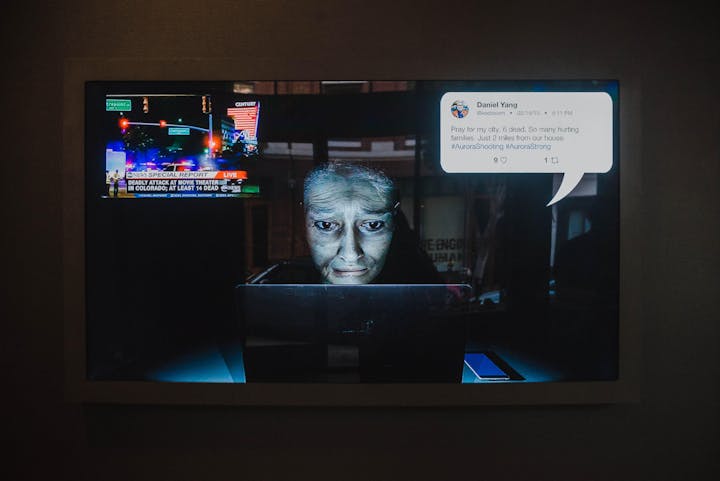 AIYA , Jacqueline Assar and Lady PheOnix, 2019, Video/sound installation.