About this Event
******PLEASE SCROLL DOWN FOR THE ENGLISH VERSION******
Binance sangat senang dapat mengundang anda sekalian untuk acara TERBESAR kami di Jakarta!
Binance Super Meetup Indonesia akan terjadi pada 14 September 2019 bersamaan dengan Empowering Blockchain Summit, yang akan mendiskusikan dunia crypto dan blockchain di Indonesia, termasuk dengan inovasi, tren, dan harapan di masa depan.
Ikuti acara Binance ini untuk mendengarkan perbincangan menarik mengenai komunitas blockchain dan crypto di Indonesia, khususnya di Ibukota Jakarta, dan dapatkan pendalaman dari pemimpin kami untuk bagaimana bisa bergabung dalam ekosistem global Binance daro program inkubasi lengan VC kami, Binance Labs, untuk proyek berbasis komunitas, Binance Chain/DEX.
Susunan Acara
Membangun Ekosistem Blockchain Global dengan by Gin Chao, Binance Strategy Officer (CSO)
Crypto di Indonesia dengan Dan Clarke, Representasi Binance Indonesia
Sambutan dan Suara Komunitas dengan Liko, Representasi Binance Angel Indonesia
Sesi Panel dengan Representasi Proyek Launchpad
Acara ini GRATIS DENGAN RESERVASI -- tempat terbatas, DAFTAR SEKARANG!
Penyegaran dan banyak sekali SWAG limited edition Binance akan dibagikan bersama dengan AIRDROP GRATIS bagi yang beruntung.
Super Meetup Binance akan diadakan pada Ballroom Sheraton Grand Hotel, Gandaria City, Jakarta.
Dapatkan informasi terkini dari halaman Meetup kami atau bergabunglah dengan group resmi Telegram Binance Indonesia:
https://t.me/Binance_Indonesian
Kami menyambut semuanya yang tertarik untuk mempelajari lebih dalam mengenai mata uang digital (cryptocurrency) dan bagaimana teknologi blockchain membentuk ekonomi yang baru.
Kami sangat menantikan kedatangan anda!
--Binance team
Terima kasih untuk para pengguna Binance di Indonesia, dan nantikan update terbaru untuk pasar Indonesia.
----------------
Sangkalan:
- Foto dan/atau video yang diambil pada saat meetup. Foto dan/atau video dapat digunakan sebagai materi promosi Binance. Dengan mendaftarkan diri anda pada acara ini dan berpartisipasi dalam meetup ini, anda mengizinkan Binance untuk menggunakan foto dan/atau rekaman video yang diambil, dan menyetujui bahwa hal ini tidak melanggar hak penggunaan foto anda.
- Dengan menyediakan anda dengan alamat email anda dan informasi pribadi lainnya yang kami minta pada saat pendaftaran acara ini, anda memberikan izin bagi kami untuk mengirimkan undangan untuk acara di kemudian hari dan materi marketing dan promosi di waktu yang akan datang. Untuk informasi lebih lanjut untuk bagaimana menarik persetujuan anda, mohon merujuk ke Privacy Policy kami.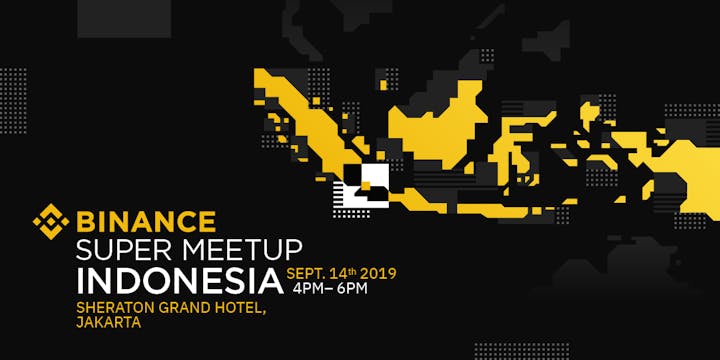 ******************************
Binance is delighted to host our first BIG event in Jakarta!
Binance's Indonesia Super Meetup will take place on September 14,2019 during Empowering Blockchain Summit, discussing the Indonesian crypto and blockchain space, including innovations, trends and future outlook.
Join Binance in an engaging conversation about Jakarta's vibrant blockchain/crypto community, and learn directly from our leaders on how to get involved in the global Binance ecosystem from our VC arm/incubation program, Binance Labs, to community-driven projects, Binance Chain/DEX.
Event Agenda
Welcome
Growing the Global Blockchain Ecosystem by Gin Chao, Binance Strategy Officer (CSO)
Crypto in Indonesia by Rexy, Binance Indonesian Rep
Intro & Community Voices by Liko, local Binance Angel Rep
Panel Session by Launchpad Projects Rep
Q&A
Refreshments & Networking
This event is FREE with RSVP -- seats are limited, register now!
Refreshments and lots of limited edition Binance SWAG will be given away as well as FREE Airdrops for lucky ones.
Binance's Meetup will be held at the Sheraton Grand Jakarta Gandaria City Hotel.
Stay tuned with the latest information on our Meetup page or join the official Binance Indonesia Telegram group:
https://t.me/Binance_Indonesian
We welcome everyone who is interested in learning more about cryptocurrency and how blockchain technology is shaping the new economy.
Looking forward to seeing you there!
--Binance team
To our Indonesian Binancians, terima kasih, and stay tuned for more updates catered to the Indonesian market.
----------------
Disclaimer:
- Pictures and/or videos will be taken during the meetup. The photos and/or videos maybe be used as Binance's promotional materials. By registering to this event and participating in the meetup, you permit Binance to use the photos and/or videos shot therein, and agree that this conduct does not infringe your Portraiture Rights.
- By providing us with your E-mail and any other personal information that we may have requested during the registration for this event, you agree to us sending you further notifications pertaining to the event and any future marketing and promotional materials. For further information and details on how to withdraw your consent, please refer to our Privacy Policy.