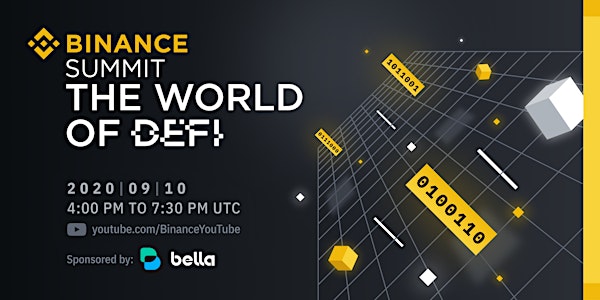 Binance Summit: "The World of DeFi"
Explore the latest trends in DeFi at Binance Summit: "The World of DeFi", on September 10, 2020, from 4:00 PM to 7:30 PM (UTC)
About this event
DeFi, or decentralized finance, promises to revolutionize financial technology from the ground up, by introducing decentralized technologies to traditional financial applications. In recent months, the impressive growth within the DeFi space has made the promise of decentralization seem closer than ever.
How close are we to the tipping point? As blockchain technology matures, DeFi has surged in popularity, with new projects launching into an increasingly crowded space, leaving some to wonder how long the DeFi trend will continue. To others, DeFi is here to stay, and will only grow in relevance as mainstream financial institutions explore the promise of decentralization.
We'll dive into all this and more during the Binance Summit. You'll learn the stories behind some of DeFi's biggest names and hear from industry pioneers and experts on the latest developments in the DeFi field, as well as their predictions for the future of decentralized finance. You'll also have the opportunity to attend a virtual workshop on how to earn passive income with DeFi.
Event highlights:
Gain valuable insights and first-hand information from DeFi industry leaders and experts.
Learn how to generate passive income using DeFi and analyze up-and-coming DeFi projects
Discover investing opportunities
Participate in interactive panel sessions and Q&As
Confirmed speaker line-up:
Changpeng Zhao (CZ) - Founder & CEO, Binance
Rune Christensen - CEO, Maker Foundation & Co-Founder, MakerDAO
Camila Russo - Founder, The Defiant
Kain Warwick - Founder, Synthetix
Viktor Radchenko - Founder, Trust Wallet
Sergej Kunz - CEO, 1inch.exchange
Teck Chia - Head, Binance X
Robert Leshner - Founder & CEO, Compound
Charlie Shrem - Host, UntoldStories.Com
Ash Egan - Partner, Accomplice VC
Felix Liu - Co-Founder & CEO, Bella Protocol
Sarah Austin - CMO, Kava Labs Inc
Tom Shaughessy - Co-Founder, Delphi Digital
Stani Kulechov - Founder & CEO, Aave
This event is sponsored by Bella Protocol
Summit themes and topics:
1. Rise of DeFi: Powering the Next Crypto Boom
2. Decentralizing Traditional Finance: Bridging CeFi and DeFi
3. How to Earn Passive Income with DeFi
4. The Future of DeFi: Boom or Bust?
Join us on September 10th, 2020 at our virtual Binance Summit: "The World of DeFi"!
Watch live over at our Binance YouTube channel!
Register now to reserve your place and get the latest event news and updates.
--------