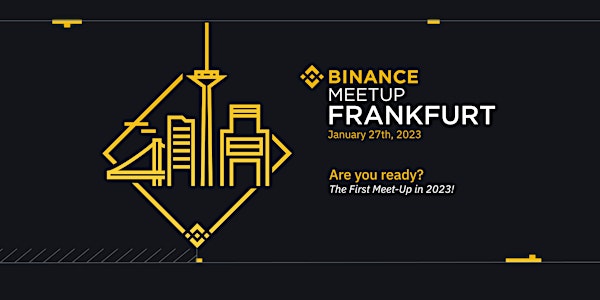 Binance New Year & Community Meetup Frankfurt - evening session
Welcome 2023 together with our Binance team Germany, the exciting Binance Community and some very interesting guests we will have.
When and where
Location
memox.world | Taunusanlage Taunusanlage 9-10 60329 Frankfurt am Main Germany
About this event
Celebrate with us the start of the new year and get to meet our global & local German team and other interesting guests and speakers. We will have an outlook at 2023 and what it could possibly bring to the blockchain environment. We will have some drinks and snacks and plenty of opportunity to network and enjoy the great atmosphere of the Binance community in the heart of financial district in Frankfurt.
Claim your free ticket now.
Please make sure to get your ticket either to the early session or to the evening session. Double bookings will be both removed by us.
DISCLAIMER: The information contained in this communication is solely addressed to existing clients in Germany registered on their own initiative and accepted by Binance as of Januar 13th, 2023. Please ignore this information, if you are not registered accordingly. This communication shall only inform you about our client event. You understand that this information and any information we may provide to you in this context does not and is not intended to solicit any clients or market or promote any services or products of Binance.