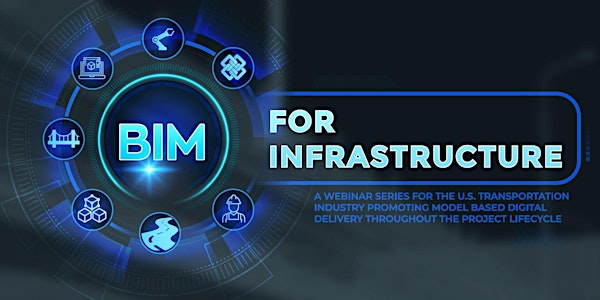 BIM in the US Transportation Industry: Designer Perspectives
The focus area for the fifth webinar in the series is Designer Perspectives of Digital Delivery Projects with Model as the Legal Document.
About this event
This virtual webinar is the fifth in a series that explores opportunities and challenges presented by the shift to Digital Delivery and Digital Twins throughout the project lifecycle in the Transportation Industry in the United States. This virtual webinar focus area is Designer Perspectives of Digital Delivery Projects with Model as the Legal Document.
This BIM for Infrastructure in the U.S. Transportation industry webinar series is sponsored by Highway Engineering Exchange Program (HEEP) and buildingSMART USA (bS USA) chapter in cooperation with TRB AED80(1) BIM for Infrastructure Subcommittee.
Agenda
1. National Perspectives of BIM in the US Transportation Industry
Features speakers representing IHEEP, AASHTO's new Joint Committee on Data Standards, the BIM For Bridges and Structures pooled fund, buildingSMART USA Chapter, ACEC, and ARTBA.
2. Designer Perspective - Digital Delivery Projects with Model as the Legal Document
Features presentations by speakers representing design firms Kimley-Horn Associates (Nicole Williams, PE), Patel-Greene (Gordon Greene), Civil Science (Tyler Turner), and HDR (Grant Schmitz, PE).
3. Panel Discussion
Moderated by George Lukes (Utah DOT) and Alexa Mitchell (HDR Inc.), the above presenters will engage in a panel discussion with Q&A from the audience.
Who should attend?
State DOT representatives, agency personnel, transportation industry consultants, and contractors.
What to expect?
This facilitated workshop will include presentations and panel discussions as well as opportunities for interaction using chat features and interactive polling.
Are Professional Development Hour (PDH) Certificates Available?
PDHs will be available for those who participate in the live event. You will receive further info in the follow-up email sent via the Eventbrite platform.
Where is the connection information?
Connection information for the Microsoft Teams Live event will be distributed to the registration email two days prior to the event. Please save the date in your calendar. You can also access the meeting via the event page. The link to the event page is in your confirmation email, automated calendar invite, and available to you when you return to the Eventbrite platform.