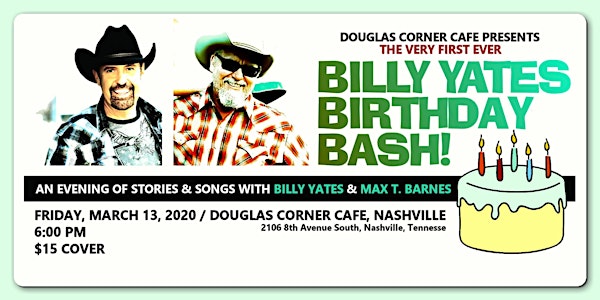 Billy Yates Birthday Bash! With Max T. Barnes. Proceeds to Nashville torna...
Description
It's Billy Yates Birthday!
UPDATE: All proceeds will be donated to Nashville tornado victims
Come celebrate with two of Nashvilles top songwriters in the round
Billy Yates is best known for his grammy winning songs "Choices" and "I Don't Need Your Rockin' Chair for George Jones. Other cuts include Kenny Chesney and George Strait. He is currently producing Charlie Pride. His songs have been featured on many commercials for Chevy Trucks, Pepsi, and Heinz 57.
Max T. Barnes has written 9 #1's and hits and sold over 20 million records with hit's like "Love, Me" by Collin Raye. A second generation writer, His dad Max D. wrote "Who's Gonna Fill Thier Shoes" and "Chiseld In Stone" and "Look At Us" with Vince Gill.
You'll laugh, You'll cry!
We'll sing Happy Birthday
and maybe - eat cake!!
Organizer of Billy Yates Birthday Bash! With Max T. Barnes. Proceeds to Nashville tornado victims