About this Event
Doors open @ 7pm
Bill Sheehan's TALAS
In 1983, seeking to take TALAS further than just regional success, Billy Sheehan reformed TALAS with dedicated vocalist, Phil Naro, drummer Mark Miller and guitarist Mitch Perry, later to be replaced with Johnny Angel. TALAS would release only one album, "Live Speed on Ice"! TALAS went on to become direct support for many US tours such as Yngwie Malmsteen's Rising Force, Anthrax, White Lion, Quiet Riot, Iron Maiden and more! In 1985 Billy withdrew from TALAS to join The David Lee Roth Band.
AND THEN... After 32 years, Billy, Phil & Mark reunited, added guitarist Kire Najdovski and played what was to be one night only on July 19th, 2017, in Rochester NY....
With enthusiastic response, The music of TALAS continues!
Billy Sheehan: Bass
Hailing from Buffalo, NY, Billy has an extremely extensive list of accomplishments, so many that it's impossible to list them all! His most notable bands consist of Talas, UFO, David Lee Roth Band, Mr Big, Niacin, Steve Vai, Winery Dogs, Sons of Apollo as well as countless other cover bands in his early years in Upstate NY.
Billy has played bass on dozens of records and toured all over the world for many decades. His unique and original style of playing has been celebrated and documented everywhere. His playing, singing, songwriting, and contributions to his many recordings have resulted in millions of records sold, Platinum and Gold status worldwide, Reader's Poll Awards too many to list, Number #1 hits, Number #1 Video's, sold-out shows, and most importantly the mutual love, friendship and respect between himself and many millions of fans around the globe
With his history of live performances and/or recordings with Talas, UFO, David Lee Roth, Mr. Big, Niacin, Steve Vai, The Winery Dogs and Sons Of Apollo, he has had a huge and undeniable influence on modern bass playing that has spread all over the globe, and will continue for many years to come.
It's also impossible to list the countless awards received, here are a few of the most notable to date. "Best Rock Bass Player" readers' poll in Guitar Player Magazine five times for his "lead bass" playing style. An honor which placed him in their "Gallery of Greats" (alongside Jimi Hendrix, Paul McCartney and Eddie Van Halen) 2011 - Yamaha Lifetime Achievement Award at NAMM 2016 - Lifetime Achievement Award by "Bass Player LIVE!" 2017 - Voted #29 by Bass Player Magazine's "The 100 Greatest Bass Players of All Time" 2018 - Just recently named #1 of The 10 best bassists in the world right now by Music Radar!
2019 will bring a new live DVD from Sons of Apollo along with dates from The Winery Dogs and special live shows from TALAS V2.
Phil Naro: Lead vocals
Phil is an internationally acclaimed composer, singer, songwriter/producer and guitarist.His career began in his hometown of Rochester, New York at the age of 15. Word of his amazingly powerful voice and his tremendous four octave range quickly spread quickly. Being best known as the front man for Talas. Phil also has an extensive list of credits performing and/or recording with world known artists such as Peter Criss, Lee Aaron, Julian Lennon, Brian May, Gene Cornish, Geoff Downes, Carmine Appice, Rudy Sarzo, Ron "Bumblefoot" Thal, just to name a few. Phil is also an Emmy Award winning performer for singing the theme song to the cartoon "6Teen" Phil currently resides in Toronto Canada and is more in demand than ever! Visit his website to view the projects he is continuously working on that keep him performing 6 to 7 days a week! http://philnaro.com
Mark Miller: Drums
Mark began his drumming career in the late 70's in local cover bands in the Rochester and Buffalo NY area playing clubs and bars. Billy had seen him play and knew instantly he had to work with him. Mark got a call one day in 1983 to consider playing with Billy in the newly reformed Talas. Mark was soon dubbed Mark "The Machine Gun" Miller for his fast, precise, hard hitting drumming talents. Mark's drum kit is as unique as his drumming style. His kit is comprised of eight Roto Toms supported on a hand-made rack mount system of 2in aluminum tubing, a Yamaha bass drum, and a handmade three-quarter inch Maple Stave snare drum along with a variety of Paiste, Sabien and Zildjian cymbals. Mark's kit is like family to the band, she's one of a kind and goes everywhere with us! Currently Mark keeps up his drumming skills by exchanging tracks and making music with musicians from around the world on the Kompoz.com . He has been collaborating via Kompoz, with his unique style, for over 10 years now. https://www.kompoz.com/music/
Kire Najdovski: Lead Guitarist
Originally from Macedonia, Europe, now living and playing in Rochester NY. While living in Macedonia, he had the opportunity to play and record with many well known top bands and performers. Now in the States, Kire has broadened his musical talents and has played with many notable Rochester musicians as well as the phenomenal Al Chez & The Brothers of Funk. Kire has since started his own band, The Kire Najdovski Band.
"Arrival", Kire's first solo album, is an all instrumental rock CD filled with songs and music inspired from his life and encounters over the years in Macedonia and the US. When the discussions for a reunion in 2017 began and a finely tuned, shredding guitarist was needed, Billy, with great confidence, left the task to Phil Naro and the band's manager, Lisa Inzana to find the perfect fit. It only took Phil and Lisa moments to agree that Kire was the one to bring to the rest of the band for consideration and the outcome could not have worked out any better! https://www.kireguitar.com/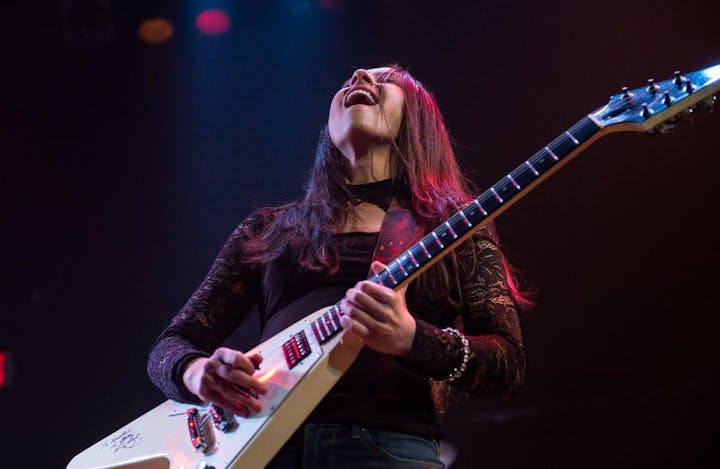 Kristen Capolino,
Guitarist, Singer/ Song writer Kristen Capolino, born in Simleul Silvanie, Romania in 1989, is a force to be reckoned with. Now hailing from Woodstock, NY, she has become a truly gifted guitarist with an incredible voice and stage presence that gives an electric performance to be enjoyed by all! In a short period of time Kristen has already shared the stage with some incredible names such as Lady Antebellum, Gavin DeGraw, Bret Michaels, Wyclef Jean, Kenny Greenberg, Michael Schenker Group, Les Paul, James Burton, Al DiMeola, TALAS V2, Billy Sheehan, Bernie Marsden as well as countless other gifted musicians. Known for her hard driving, melodic and powerful guitar based music, Kristen delivers a performance not only stacked full of amazing songs but coupled with boundless energy and firery guitar playing to leave you always wanting more!
Kristen Capolino gave another great performance as the night's support act. The diminutive musician with the flying V is absolutely the "World's happiest guitarist." Hunched over her guitar she radiates pure joy as she careens about the stage, spraying out blistering leads, all the while with a megawatt smile that could light up a city. Mark Alexander Hudson - Nippertown.com
"LOOKS LIKE YOUR SISTER - PLAYS LIKE A POWERHOUSE"
- Guitar World
"Kristen is a truly electrifying performer. When she has a guitar in her hands, she explodes with music, smiles, inspiration, and the pure joy of the white-hot guitar solo, and everyone in the room is reminded why they love the electric guitar is. It's always a thrill to watch her play"
- Jude Gold | Director - Guitar Program (GIT) | Musicians Institute
"Kristen has an instantly magnetic bubbly energy that has the power to take the audience wherever she feels like taking them"
- Jennifer Batten
"With such energy and determination Kristen from the very first time I heard her live on stage displayed an excitement that is sure to capture much attention. She really represents the future of the instrument"
- Al Di Meola
"Kristen is an incredible talent. Her playing embodies that all too rare combination of speed, precision, power and soulfulness"
- Greg Conway | Producer "The Axe Factor"
Performers
Date and Time
Location
Refund Policy