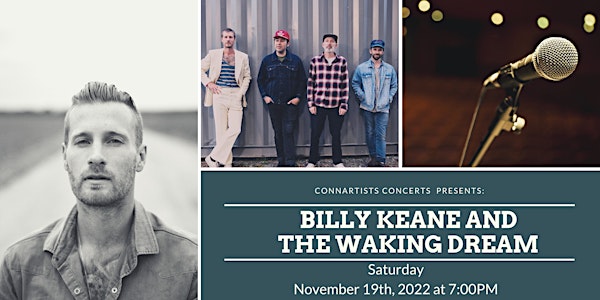 Billy Keane and the Waking Dream: House Show in Southbury, CT
An Evening of Music featuring Billy Keane (of Whiskey Treaty Roadshow) and his band The Waking Dream!
When and where
Location
Southbury, CT (Exact location emailed 48 hours prior to event) Exact location emailed 48 hours prior to event Southbury, CT 06488
About this event
Billy Keane and the Waking Dream on Saturday, November 19th, at 7:00PM
Ranging from psychedelic indie rock, to acoustic singer/songwriter folk, Billy Keane and The Waking Dream create unique musical experiences, wide ranging and dynamic, blurring the line between pre-arranged and improvised.
Set in a private space, this is a great opportunity to connect with other fans of live music and the artists who make it. By registering to attend our event, you are directly supporting artists in a powerful way.
If you have never been to one of our events, here are a few things you should know:
Attendance is limited
There is room to sit or stand
You can BYO (beer, wine, sparkling water)
Even if you come by yourself, you will meet some great people who love music just as much as you do.
100 % of your donation goes directly to the artists.
About Billy Keane
Billy Keane, a Pittsfield MA-based rocker was discovered by the Berkshires first family of music, Kim and James Taylor. Keane writes and sings about things that are important to people: Freedom, love, and peace as well as other key issues in our time. With his blend of Neo-Americana and Indie Rock, Keane has built a solid following by playing clubs, bars, concert halls, and festivals throughout the United States and abroad, both as a solo act, and as a founding member of The Whiskey Treaty Roadshow. In January of 2020, with The Whiskey Treaty, Keane released "Band Together", a full-length studio album feathering Steve Gorman of the Black Crowes, Pat Sansone of Wilco, and the Berkshire's own Arlo Guthrie. "Band Together" has received high praise from Rolling Stone, American Songwriter, No Depression, and other outlets, and tracks off the album can be heard playing on the radio the world over.