Cet événement est terminé.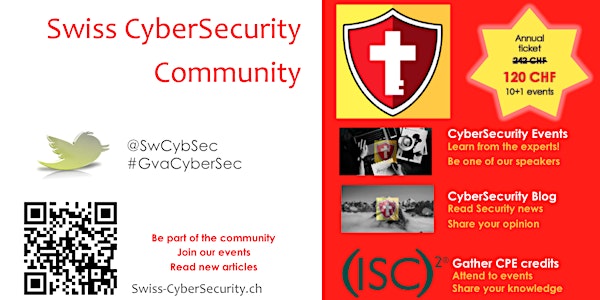 Swiss CyberSecurity Loyalty Card 2019
Politique de remboursements
Description
Dear Members and new participants,

we are building a community of Cyber Security experts end enthusiasts where we exchange ideas, we extend our knowledge and we get in touch with the community members.

For 2019 we are planning the following after-work events:
* 24 January - Network Security
* 14th March - Cloud Security
* 9th May - Identity and Access Management
* 18th of June - Artificial Intelligence
* 12th of September - Data Protection and Compliance
* 7th of November - Risk Management
and many other networking events, including the "Boat events" as well.

The events are respecting the following agenda:

18:30-18:45 Welcoming Drinks and Networking
18:45-19:00 Swiss CyberSecurity Presentation and Sponsor Presentation
19:00-19:15 CyberSecurity News
19:15-20:45 speeches
20:45-21:00 Q&A with the speakers
21:00-21:30 Snacks and networking

Being a Loyalty Card holder you will:
- Get access to the 6 Swiss-CyberSecurity formal events in 2019
- Get access to the 5 internal talks
- Save 50% of for the annual Swiss-CyberSecurity 2019 events
- Get 40% discount for the Zero-Day event
- Get a privileged status in the selection process for the speakers
- Building relationship with our community members
- Gain up to 25 CPE credits for your (ISC)² certification (CISSP, SSCP, CCSP, CSSLP, CAP, HCISPP)
For more information visit our website! Download the event calendar and subscribe to our mailing list!

This year we created a special offering for companies providing you with non-nominative tickets. Once you purchase several tickets, the seats will be reserved for each event with your company name and not for the individuals!!!
See you soon!

the SCS team
+41 22 303 02 20