Lieu
See U
8 Rue Fritz Toussaint
1050 Bruxelles
Belgium
Politique de remboursements
Pas de remboursements
Two amazing space days: one professional day aimed at students and young professionals, and a public day, to discover the world of space!
À propos de cet évènement
New this year to the Summer Space Festival: a day of roundtables, talks about study or career advice, inspirational talks and workshops dedicated to students and professionals of the space industry.
This workshop is your opportunity to discover the space sector, learn about key topics and network to find your next professional opportunity (internship, jobs)! Come and meet renown space companies (Thales Alenia Space, AerospaceLab, Unseenlabs, Gama, ispace), research centers or space agencies.
This Workshop on Friday June 24th will include:
Inspirational speeches by VIP: Benoît Deper (AerospaceLab), Dominique Tilmans (SwitchToSpace), Louis Gouyon de Matignon (Gama Space) and a surprise guest...
Presentations from Universities and the European Space Agency providing insights & advice to enter the space sector, from studies in Belgium, getting a first job or developing your career path.
Entrepreneurship talk: to share experiences and lessons learnt.
Lunch with all delegates and professionals, along with company & university booths to find academic and professionals opportunities (internship, job, etc.)
VIP Roundtable to discuss the Future of Europe in Space, with guest speakers from key newspace companies, institutions (EU Commission) and agencies.
Workshops where you will be invited to discuss challenges and opportunities on 1 key topic (out of 4) within the space sector. Along with professionals and other delegates, you will learn about this topic through expert talks and brainstorm together to find insights and ideas to explore.
Topics: Lunar Exploration, European Micro-Launchers, Planetary defense (protection against asteroids) and Space &Innovation.
Conclusion where every group will share their insights.
Networking Cocktail including a live concert from Caramels Sons (https://open.spotify.com/artist/2hqnrCbFz1dQt9SU6RcZff )
The participation fee of 18€ covers snacks, lunch and the evening cocktail.
The workshops are open to students and young professionals (18-35 yrs), whether already in the space sector or not, as well as space professionals. We encourage all profiles to join, non-STEM backgrounds particularly.
Prepare your CVs, our partners are recruiting!
💡 Programme and workshop topics described below
📲 Find out more details on the event's facebook page or our website
📌Join us the next day, Saturday June 25th, for a day of conferences, booths, activities and more, open to all! More information here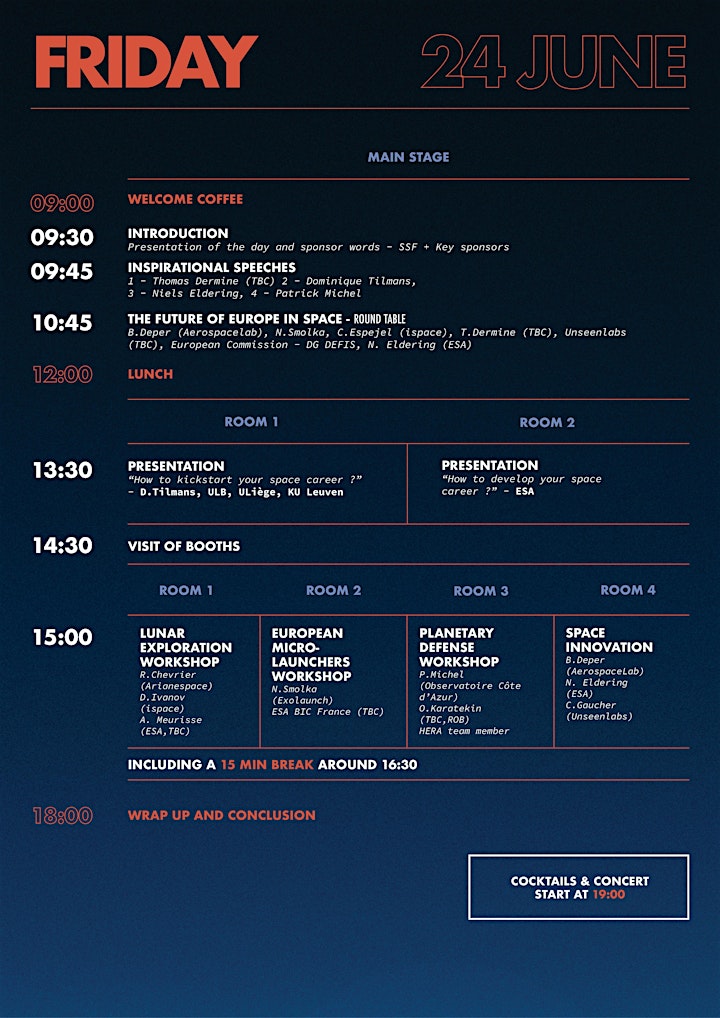 Workshop topics :
A large number of lunar missions are planned in the 2020's, to build sustainable infrastructure to explore and live on the Moon. This requires creating an ecosystem involving many sectors (transportation, energy, resources, communications, health). As technology progresses and companies develop new business models, major challenges are to be solved to enable continued lunar exploration with robots and humans. In this workshop, you will learn about these challenges and you will be invited to identify and discuss key building blocks to sustain lunar exploration on the Moon, in the short, mid and long term. From exploring the lunar surface to using local resources, or maintaining humans alive on the harsh lunar environment, be prepared for stimulating discussions.
What are the main challenges and opportunities for developing micro-launchers in Europe today ? How will the New Space market evolve, and how could micro-launchers take profit from it ? This workshop will bring together students and young professionals with experts from both private and public sectors to discuss the stakes of providing a new access to space in Europe. You will take part in discussions about key opportunities such as collaboration between European startups and between the public and private sectors, as well as technical challenges and opportunities that will disrupt the sector in the coming years, including new manufacturing processes, electric propulsion, and of course reusability.
How dangerous are asteroids for life on Earth? How to detect and characterize them? What could we do if an asteroid was to impact Earth in 6 months (#DontLookUp)? The field of Planetary Defense and its challenges will be presented by experts who have been working on several asteroid reconnaissance missions (from Hayabusa 2 to HERA) and will invite you to discuss the key challenges to detect, characterize and protect Earth against asteroids. What would a rescue mission against an asteroid look like?
Make sure to not miss our partner event on Thursday 23rd, at the Museum of Natural History, to talk about impact craters, dinosaurs and asteroids...: https://www.eventbrite.com/e/from-asteroid-impacts-to-planetary-defense-registration-338978563007
Fascinated about space and innovation? Interested to know how space technology can improve life on Earth? Or how to make the space sector more innovative? Join our working group led by the CEOs of AerospaceLab, Gama Space and Unseenlabs's Communication Manager. From a NewSpace startup to leading SMEs in their fields, our experts will share their experience and invite you to identify challenges and opportunities for innovation in the space sector. You will take part in discussions for fostering innovation in space companies while bringing new applications to terrestrial needs. Ready for that challenge?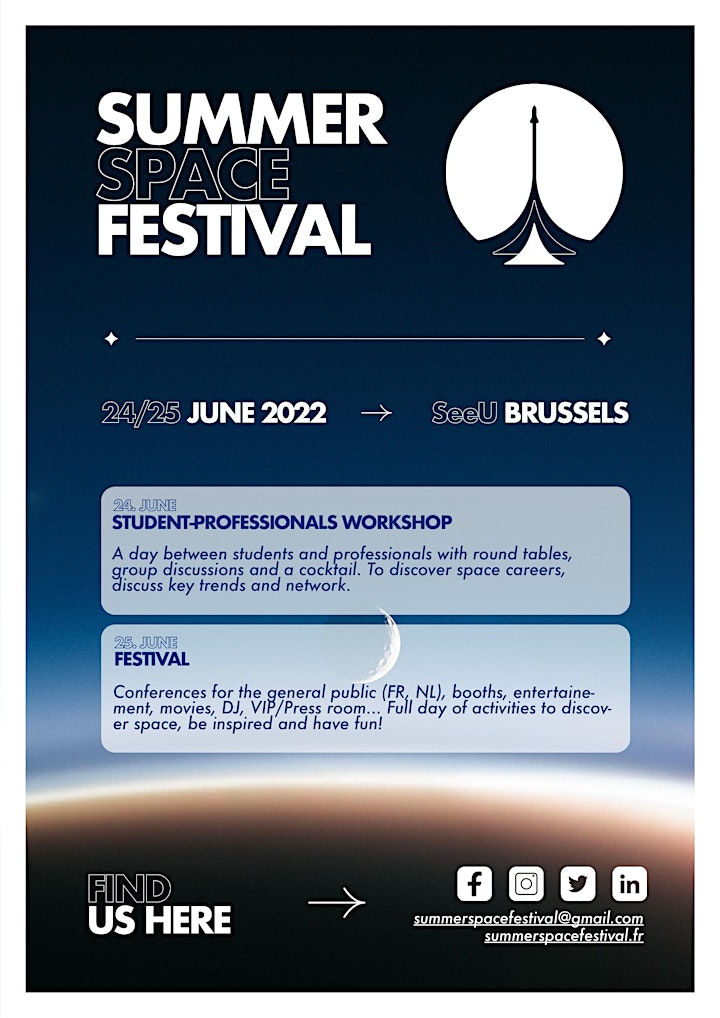 Don't miss our partner event on June 23rd:
Public Outreach Event: From Asteroid Impacts to Planetary Defense
Join our in-person public outreach event at the Museum of Natural Sciences in Brussels on June 23, 2022, from 4.30 pm onwards, to gain exclusive insights from topical leaders in science and technology related to asteroid impacts and planetary defense! Explore the story of the dinosaur-killing asteroid impact towards the incoming European Space Agency's (ESA) Hera mission, Europe's planetary defender flagship, which will be humankind's first-ever spacecraft to visit a binary asteroid system.