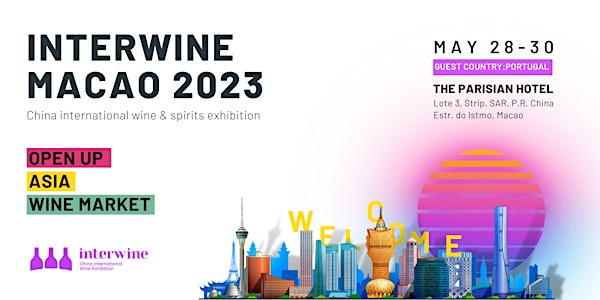 Interwine Maco
Interwine will organise the wine event of the year at Parisian five star Hotel Macao with three fully b2b days exhibition.
Par Interwine China group
Date et heure
dim. 28 mai 2023 10:00 - mar. 30 mai 2023 17:30 CST
Lieu
The Parisian Macao Estrada do Istmo macao, 999078 Macao
À propos de cet évènement
2 jours 7 heures

Billets électroniques sur mobile
Since 2005, Interwine Exhibition took the lead in holding the first professional international wine and spirits exhibition in China - Interwine China.
Interwine has established contacts with 76 wine-producing countries, 200+ producing-region governments and 45,000+ wineries in the world; it has close relations with embassies and consulates in China and 206 wine associations and chambers of commerce worldwide it has active business contacts with 300,000 wine merchants. Ketong Exhibition has become a gateway for wines from all over the world to enter the Chinese market, and has won a good reputation in wine producing countries around the world.
Event Profile
A PROJECT that was created to offer the sector a new way of using business events in Asian wine industry.
TO THE PRESENT OPERATORS AND OTHER VISITORS to be able to know and communicate easily with companies in a highly professional context
TO THE COMPANIES PRESENT to meet exclusively qualified operators of wine industry ( importers & distributors) , administration and physical retail who have a decisive role in purchases
A HIGHLY professional context in which to do business set up a hoc for a limited number of companies and for a selection of thesector operators by invitation,
Event details :
Date: May 28th-30th 2023
Location: The Parisian Hotel Macao
Scale: 5000 sqm
Scope: B2B event
Guest Country: Portugal
Capacity: Limited to 300 companies
Visitors: +10,000 professional buyers
We chose Macao as a center of Asian wine promotion because of its great location which can be the bridge between other asian countries and specially China mainland 60%, Hong Kong and Macau 20% and other 20% from asian countries.
We want to use Macau to build up the branding of Portugal and its lifestyle near of the market and promote Portuguese products in their daily life.
We believe that by making the right consistent communication to the professionals of sector we can build business opportunities not only in Asia but also exchange program in Portugal by bringing the asian investors of the industry.
By making Portugal guest country a fully package of events and communication will be dedicated before during and after the show such as
1— Digital communication through our media channels ( counting today over 350 medias)
2— Wine masterclasses and seminars for regions or wineries
3— Wine and food festival (cultural event)
4— Asia-Portugal investors forum
5— B2C Portuguese wine day
6— Media coverage and interviews
7— Live broadcasting KOL streaming
8— Post show report in +350 digital and paper medias.
Host masterclass and become part of our community for more business opportunities.Education has always been the best way to create the circle of new partners for your company. In the asian wine market which is well know for its eager to learn, the students of today during the masterclass can be the buyers of tomorrow.
Our company cooperate with the most well-know wine influentials of mainland China and Asia based but not limited to some of the biggest names of International wine industry. As Portugal is nominated guest country we want to work together with wineries, regions and national institutes to create a panel which will be the voice of Portuguese wines in Asia market.
À propos de l'organisateur